For example, would you pay $185 for a pair of cast iron farmhouse sink legs from the 1900s?
What about a large 1930s, terra-cotta, movie theater facade ornament priced at $1,750?
Once upon a time, you could go to a salvage yard and find wonderful remnants from old buildings and exteriors for little money. These days, they have found a second life in decorator's show rooms and antique shops, as well as their own architectural artifacts stores.
The Red Barron's Auction House in Atlanta, Georgia, is known for it massive salvage pieces that include everything from cast iron gazebos and complete English, Victorian back bars to elaborate cast iron fountains and garden sculptures. Some are from palaces in Europe.
When it comes to strictly architectural artifacts, the price depends on if the architect is well-known and the piece can be attributed to him. Names like Louis Sullivan and Frank Lloyd Wright can mean big bucks. Familiarize yourself with famous architects from the past in your area.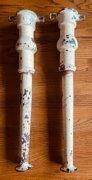 There is nothing new about architects designing not only the interior decorations, from ceilings to moldings, as well as furniture. Many furniture designers, such as Thomas Chippendale and Thomas Sheraton, also designed architectural ornaments for their clients as well.
Often historic hotels and restaurants in a region are going to be demolished and their contents sold. At this type of sale, you could be competing with dealers, decorators and museum curators.
Size is never a problem in this collecting category. Massive items such as a three-and-a-half-ton bronze pocket door from the Corn Exchange Bank was offered several years ago at Salvage One, and sold.
Architects have been incorporating salvaged architectural elements in their plans. Many clients use them to enrich the look of today's rather plain houses or condos. Old light fixtures, carved newel posts and even entire staircases are some possibilities.
Interesting collections can begin with architectural fragments used as decorative accessories. Among them are carved wood and metal fragments that were once part of a staircase or fireplace mantel. The same holds true for terra cotta building decorations popular in the 1920s or 1930s.
Nothing is too humble to be considered collectible. An example would be a cast iron heat grate.
Wrought-iron door latches dating from the 18th to early 19th century are eagerly sought by collectors of furnishings from that period. When they make a rare appearance in dealers' shops, prices can skyrocket to thousands of dollars.
To get acquainted with architectural artifacts, read your local paper to learn what old buildings are going to be demolished, and when. Probably there will be a mention of items that will be for sale before the building is torn down. Be there early.
link