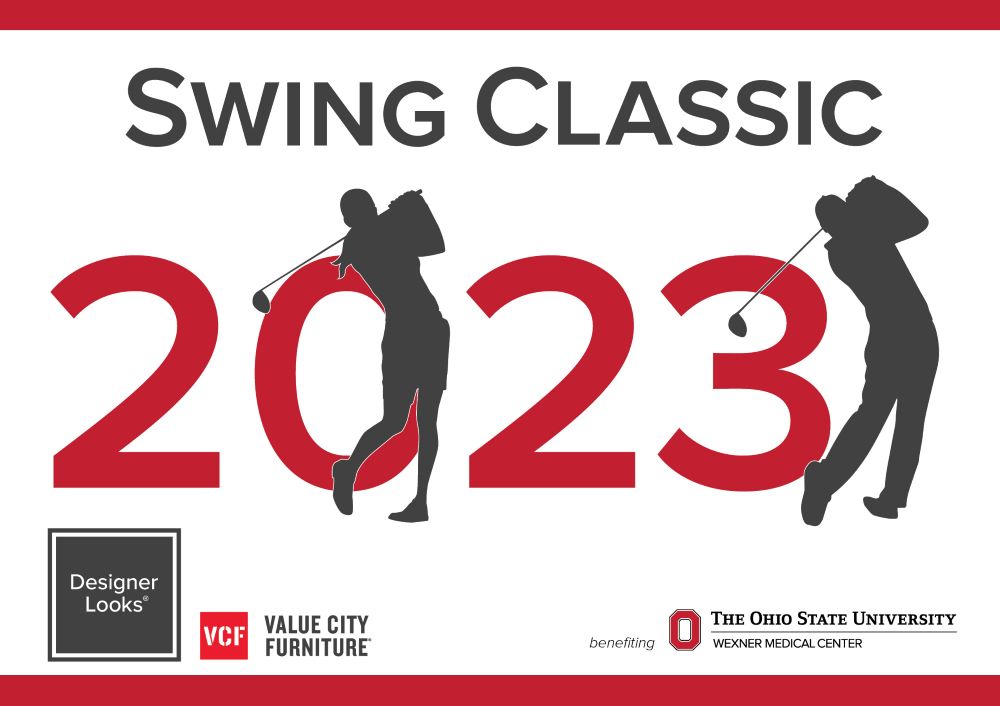 Value City Furniture is proud to support The Ohio State University College of Medicine through the 2023 Value City Furniture Swing Classic. For over a decade, Value City Furniture and its affiliates have supported health care programs at The Ohio State University  – not only because of the enormous impact they have in our home community, but also because of the university's national reputation in medical education, research and patient care.
Proceeds will benefit the Jeffrey Schottenstein Program for Resilience at Ohio State's Department of Psychiatry and Behavioral Health. The event will be held on the Columbus Country Club's Championship Course.
To learn more about how you can become involved with Swing Classic please call 614-247-9996 or email [email protected].
Thanks to the 2023 Swing Classic Sponsors!
Eagle Sponsors
Absolute Impressions
Designer Brands Inc.
Elements
Huntington National Bank
Najarian Furniture Company
NEST Integrated Facililties Management
The Ohio State University Heart & Vascular Center
Synchrony
Tempur+Sealy
UST Logistical Systems
Vogue Home Furnishings / Paxton Furniture Industries
Waste Harmonics
Birdie Sponsors
AGI
Cigna Healthcare
Enervise
Fortiva
Holland House Furniture
Insurance Office of America
Paragon Consultants + Onyx Creative + Civil & Environmental Consultants
Penske
PNC
Professional Retail Outlet Services
Rapid Response
Riverside Furniture
Schottenstein Property Group
Tenerum
Uniters Group
Young Contracting/SE, Inc.
Hospitality Sponsors
Acceptance Now
Asphalt Solutions Inc.
Gallagher
WTW
Golf Cart Sponsors
Anthem Blue Cross and Blue Shield
Asphalt Solutions Inc.
Irwin & Beverly Bain
Commercial Construction Management
DGS Logistics Co., LTD
Impact Environmental Group
Man Wah
Ohio State Bank
Peak Living
Hole Sponsors
Asphalt Solutions Inc.
Bearcat
Commercial Construction Management
The Fortis Wealth Management Group at Morgan Stanley
Idealease
Manhattan Associates 
MAPSYS Systems and Solutions
Peak Living
Powerhouse Retail Services
SpotGenie Partners LLC
Zuo Modern Contemporary Inc.
Golfer Sponsors
Columbus Blue Jackets
Empower
Everest Technologies, Inc.
David and Eli Goldach
Idealease
Manhattan Associates
Man Wah
MAPSYS Systems and Solutions
Mills James
Nfinite
The Ohio State University Department of Psychiatry and Behavioral Health
Peak Living
Powerhouse Retail Services
SGR Restaurants, LLC
Shaw Industries
Wells Fargo
Zuo Modern Contemporary Inc.
Special Thanks:
Absolute Impressions Inc.
Michael Broidy
Columbus Country Club
Greg Miller Photography
Value City Furniture
And with deepest gratitude, the Schottenstein Family
link