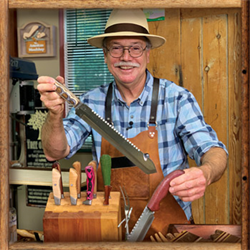 Woodcraft congratulates Scott and Suzy Phillips on another season of unique and educational shows.

PARKERSBURG, W. Va. (PRWEB)
January 05, 2022
Co-hosts Scott and Suzy Phillips return to PBS on Monday, January 10, with 13 new episodes of "The American Woodshop" based on the theme, "Recycle & Reclaim!" Check your local PBS TV station for airtimes or watch on Create® TV, YouTube PBS TV, or 24/7 at wbgutv.org/americanwoodshop.
"Woodcraft congratulates Scott and Suzy Phillips on another season of unique and educational shows. They continue to inspire viewers to elevate their craft as they responsibly create with wood," Woodcraft President and CEO Jack Bigger said.
Woodcraft, "Woodcraft Magazine," Rikon, PS Wood Machines, and Furniture Bank of Central Ohio sponsor the popular woodworking series on public television.
"Every episode of Season 29 shares a path to successful expression in wood," Scott said. "You can smell the sawdust. You can hear the success of a project coming to life. You can experience the reward of using recycled wood. You can feel the satisfaction and pride that can't be bought in a store."
The season opener is all about the theme. A Tall Case Cabinet made with live edge Walnut slabs is the featured project. Also, Scott delivers a beautiful reclaimed table he made from a Walnut slab and recycled Chestnut Oak scraps from the Gertner Barn Project to the Gertner Family for the party room in their newly renovated barn. While there, Scott leads a discussion about greenwood reclamation.
Other Season 29 Projects, in the order they will air, include:


Hearth Chair: A centuries old three-legged chair recreated with White Oak and Walnut is curiously perfect and comfortable.

Green Bowl Turning: Honey Locust from log to home is used to make the ultimate salad serving bowl.

Tool Tote: Straight from "Woodcraft Magazine" comes the ideal curved handle tool tray.

English Cricket Table: This 300-year-old round table was traditionally a cricket game centerpiece.

American Miniature Benchtop Chest: This miniature chest is perfectly sized to enhance any tabletop.

Tall Vase Turning: A log is transformed into a beautiful vase by a series of woodturning techniques.

Wall Curio Cabinet: Making cabinets has never been easier. Simple tools are used to build the case for an antique curved beveled glass door.

Hoop Back Windsor Chair: Chairmaking is the best way to truly hone woodworking skills.Windsor hoop backed forms are solid and comfortable.

Custom Knives and Keep Trays: Special tempered stainless steel blades are finished with custom wood handles called scales.

Treasure Box: Sized to hold a king's ransom, this box is ideal for any home treasure.

Furniture Restorations: Easy-to-use finishing products are featured as the best way to keep furniture looking great.

River Display Table: Two live-edge Corkscrew Willow slabs are turned into stunning display tables.
For more information about "The American Woodshop," visit wbgutv.org and Facebook.
To learn more about Woodcraft, contact the store nearest you, visit woodcraft.com or call (800) 535-4482.
Share article on social media or email:
link