The  company began by manufacturing office, dining room and kitchen chairs.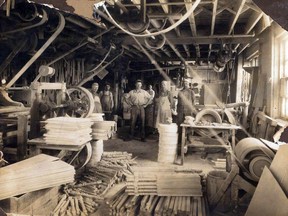 Article content
In December 1922, the big industrial event in Listowel was the opening of the Blackmore-Hamilton Furniture Company. It was located in the former Hibner Chair Factory which was located on Main Street East.
Article content
An article published in the Nov. 30, 1922, issue of the Listowel Banner noted the "former Hibner plant (is) in hands of new firm of experienced men … they have secured their charter and purpose." The firm comprised Mr. Noah Blackmore of Listowel, who was president and general manager, Mr. Hugh Hamilton of Listowel, vice-president, and R.A. Treleavan of Palmerston, thesecretary-treasurer. All three men came into their roles with a wide range of experience in the furniture industry. Blackmore, who was in charge of the finishing and packing departments, learned the trade of woodworking from his time at the Hess Brothers Furniture Factory, where he spent most of his time as a superintendent. Hamilton, in charge of the machine department, had more than 25 year of previous experience working and supervising the machine department at the Malcolm Furniture Company in Listowel. Treleaven, in charge of the office, was noted as being an "energetic business man and one of (Palmerston's) most respected citizens."
Article content
The  company began by manufacturing office, dining room and kitchen chairs. They later branched out to include high chairs and breakfast suites. The suites included tables, chairs, buffets and serving carts, which were offered in a variety of finishes.
The business enjoyed great success within its first year. A small article in the July 19, 1923, issue of Listowel Banner read: "The Blackmore-Hamilton Furniture Company are so rushed with order that they are finding it necessary to take on additional hands." A snippet in a 1925 Listowel Banner read that the company was working overtime due to increased orders that were coming in much faster than they could can fill.
By 1926, the company had kept up its steady pace of growth and employed 40 men. Company officials also had plans in place to increase their capital in order to keep growing. The company took its pieces to a furniture show in Kitchener, which resulted in an influx of orders from all over the Ontario, and even other parts of Canada. After only three years in business, it had "become a staple and well organized industry."
Article content
The company was only in production until 1933. It appears it fell upon difficult times partly due to the Great Depression of 1929 and was unable to recover. The company declared bankruptcy in November 1933, and the property was repossessed by the bank. The property was sold back to the Town of Listowel in 1937. The building, and all machinery inside, was then purchased by an American company named Eureka Foundry and Manufacturing in 1950. Eureka was not there for long and sold the property to Robert D. Trench in 1954. The Great Atlantic and Pacific Tea Company, also known as A&P, owned the property from 1964 to 1982 before selling it back to Trench. Some time in the 1980s, Trench demolished the building and then sold the property. Currently, Ward & Uptigrove at 145 Main St. E. sits on part the former site of the Blackmore-Hamilton Furniture Company building.
The Stratford-Perth Archives is open for in-person research. For details, please visit www.stratfordpertharchives.on.ca, call us at 519-271-0531 ext. 259 or email [email protected].
link