Look on social media and you'll see everyone is making a pallet coffee table. What was once just a by-product of dad's delivery, can now be transformed into the latest trendy furniture for cheap.
The best coffee tables are often made from expensive wood that needs to be harvested and finished with a stain or paint. All of this extra work often means that retailers can be bold when it comes to marking up prices to make a tidy profit. But who needs a middleman when you're looking for a thrifty table for casual use?
You don't need to be a carpenter or furniture expert to construct a wood pallet coffee table. In fact, the more rustic and homespun ideas we've seen are often the most interesting. Plus, with the plethora of paints, stencils, and sprays on the market, you can customize your creation to suit your space. 
On the contrary, save time and money by keeping the wood unfinished to fit within a farmhouse scheme. Or feel free to scrap that advice and experiment with bold colors for a contemporary maximalist feel.
A word of warning though – if you are using it outside, be sure to decorate with paint and finishes that are designed to resist the elements. You would want your wheels or table legs to rust, not would you want intricately painted details to wash away with the rain. 
Will you keep to a static fixed pallet coffee table, or produce a portable piece on wheels? The choice is yours.
Pallet coffee table ideas
'Create your own unique coffee table by upcycling a disused wooden pallet. A simple, yet innovative project that will leave you with a rustic and industrial-looking table. The ideal way to add a bit of charm to your living room; without breaking the bank.' says Cat Dennison, interior designer, B&Q.
1. B&Q's beginners' wooden pallet coffee table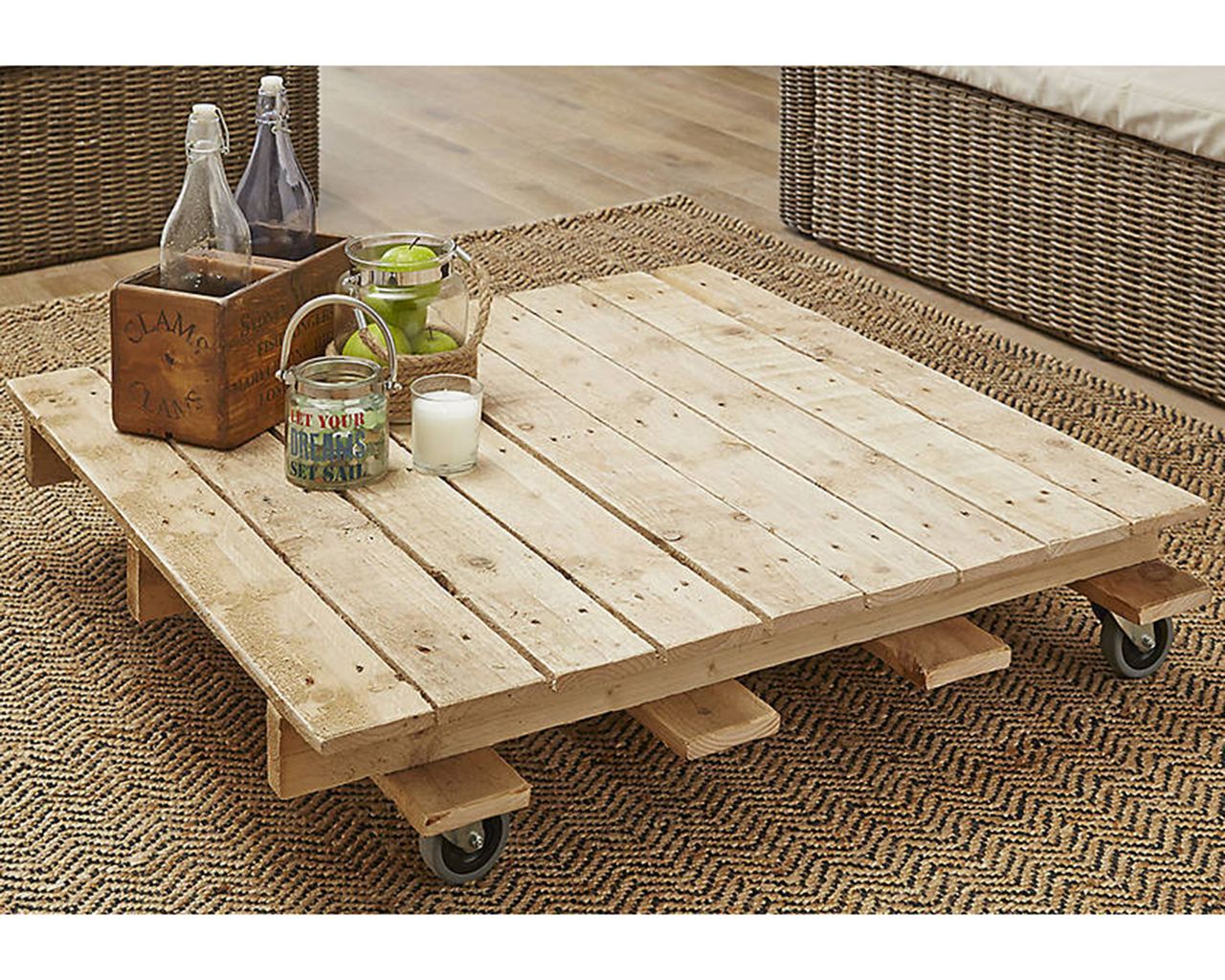 If this is your first rodeo when putting together a pallet coffee table – don't panic. This 3-step guide is perfect for those looking to start their debut project. This low-set surface is an idyllic place to pop drinks on and works perfectly alongside a DIY bar cart.
'Transforming a basic wooden pallet into this innovative coffee table is one of the many ideas we have to inspire our customers to think about new ways to decorate their homes.' says Dennison, interior designer, B&Q.
Large wheels or castors will increase the height of the table and make them a real feature of your furniture.
You will need:
How to:
Clean the pallet: Before you begin constructing your pallet table it's important that you lightly sand the pallet first. Take time to remove any splintered edges and sand them gently for a smooth finish. You'll want to retain the rustic look without the rough feel or splinters.
Drilling: Turn the pallet upside down to enable you to mark the holes for the castor wheels. You can use different sized castors but you may want to choose larger ones, that are more visible for a stronger, more industrial look. Make small pilot holes and then drill the wheels into place. Use smaller screws so as not to drill right through the pallet. If you want to lift your coffee table a little higher off the ground, or even create an industrial-style desk, then why not add legs? Using table legs, measure each side in the same way as the castors. Draw around each table leg and don't forget to include markings for the screws.
Varnishing or coloring the palette: Keeping your pallet table as rustic as possible means that you don't even have to treat it. Although you may find that a light oil or varnish will seal it and highlight its natural look. Alternatively, you can create different effects depending on the look that you're trying to achieve. Bright wood paints will give your room a pop of color, or you can use gloss paint to give it a shine.
Once you've bossed this basic pallet coffee table, you could try and experiment with more complex designs. For example, you could stack multiple pallets vertically for garden Jenga vibes, or make a longer table that doubles up as a place for alfresco dining.
However, you decide to level up, consider the size of your space and whether having a larger table is appropriate for the aesthetic. If you're in doubt and are asking yourself the question: 'How big should a coffee table be?' you can count on us to give you a sensible answer.
2. Theresa Gromski's outdoor pallet coffee table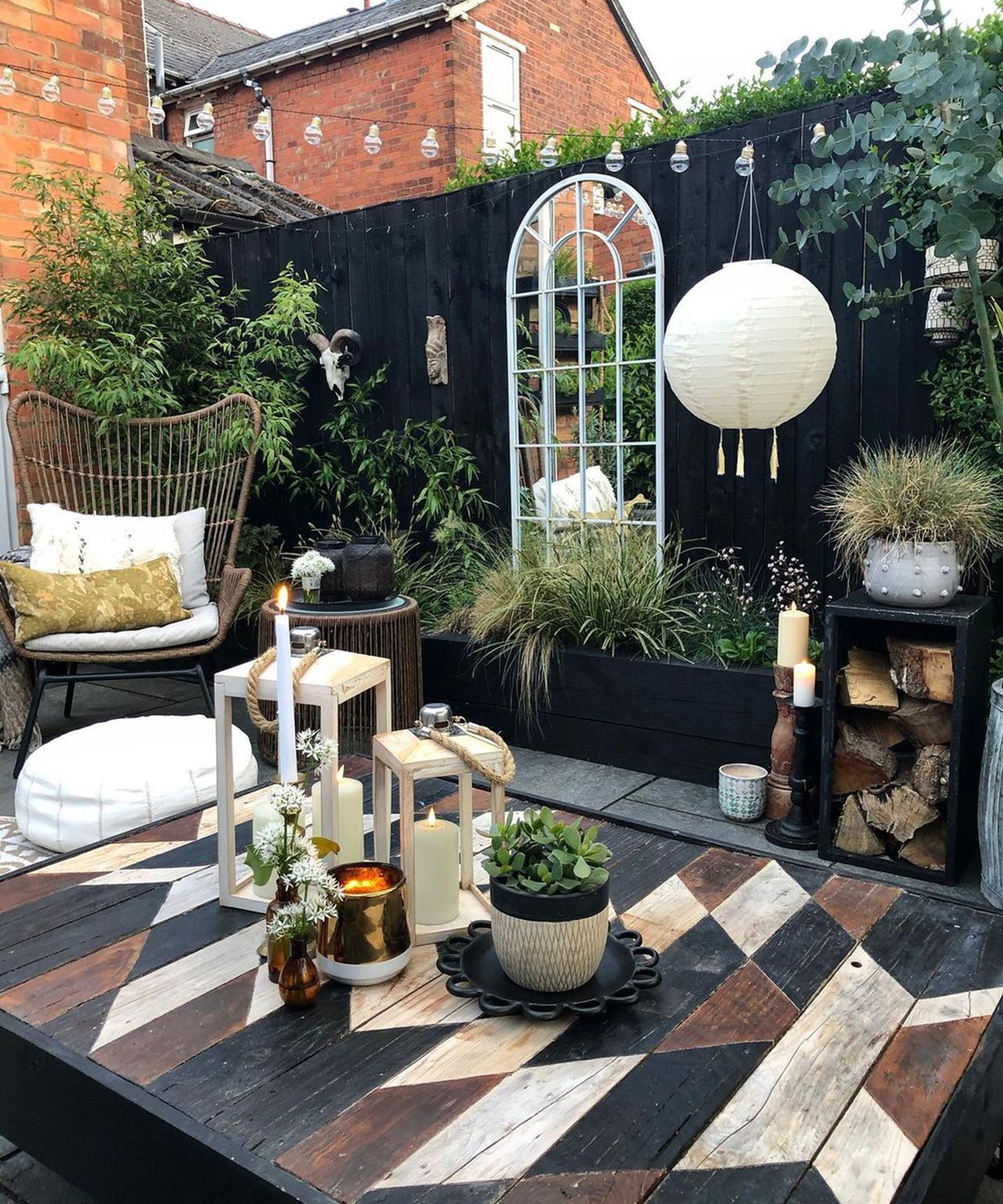 This DIY coffee table by award-winning illustrator and content creator, Theresa Gromski is garden goals. And, if we weren't writing home content for you, we'd want to sit outside all day drinking caramel lattes and iced coffees outside.
'I got my inspiration for this from Pati Robins so if you want a more detailed explanation head over to her blog. I did however construct this slightly differently from Pati's as hers is a dining table rather than this low coffee table.' says Gromski.
'It took about a day to do and cost a grand total of £37.'
You will need:
2 x pallets
Mitre saw
Wood stain (Theresa used Ebony and Dark Oak)
Black exterior paint
Clear matt varnish
Router tool
Sandpaper
Pencil
Ruler
Set square
Paper
Clear matt varnish
Wood glue
Screws
Hairpin legs (Theresa found hers on Ebay)
How to:
Carefully take all the wood strips off the top of one of the pallets and extra ones from the other pallet then reattach them back onto the basic frame but all butted together. You'll then need to give this a really good sand and possibly trim if there are any uneven edges. This is your basic tabletop.
Then with a pencil, ruler, and set square draw out your Aztec pattern. It's worth making a plan on paper first so you know exactly what you're going to do. Next, the fun bit! You need a router tool to rout out the lines. This takes a bit of getting used to so maybe have a practice first before you rout the tabletop.
Once that's done, 'color in' the pattern with wood stain. Theresa used ebony, dark oak and left the pale sections natural. She gave the table a bit of a sanding back at this point as she found it too 'bright' and wanted a slightly more worn rustic look. Apply a coat of clear matt varnish.
Using the extra timber pieces, attached the side sections using wood glue and screws. This is the tricky bit where Theresa enlisted the help of her husband to I got Mr. G to help as we mitre the corners. I painted those sections with black exterior paint.
Then it was a simple job of adding the hairpin legs.
3. Melanie Jade Design's tile-effect pallet coffee table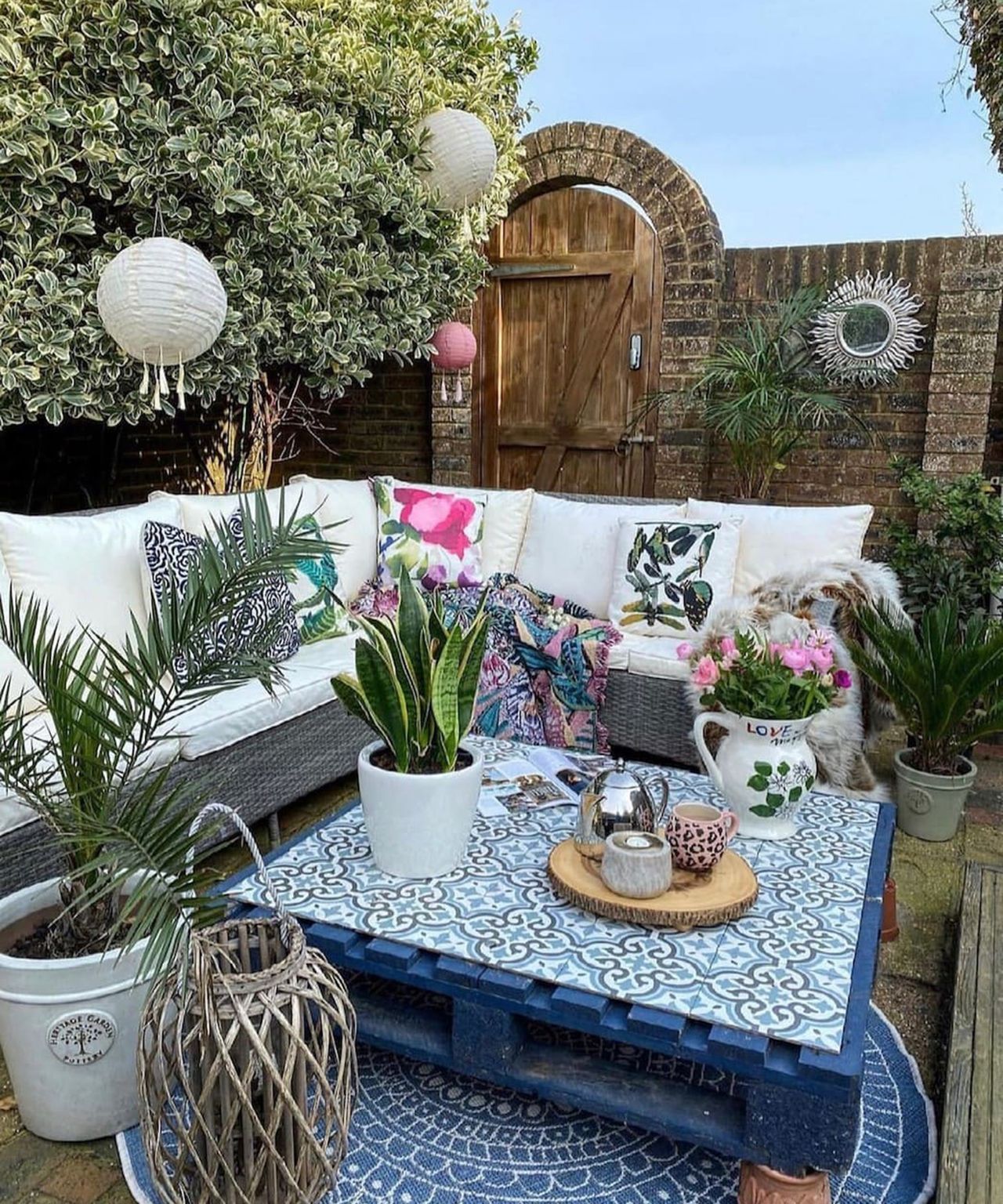 'We had leftover pallets from when we had our gravel delivered for our last garden revamp, so we decided to turn these pallets into a table.' explains Mel Boyden, aka @melaniejadedesign.
'They were a perfect size and made for outdoor use. I had seen many other bloggers and Instagrammers create wonderful pieces of garden furniture out of pallets so I decided to give it a go.'
'It's up to you whether you put something on top of your pallet once it's done. To begin with, we weren't going to put anything on top and just use trays to place food and drinks on top of the pallet. However, we found that we played a lot of card games with the kids outside and were forever losing our Uno cards down the gap, so this is when the idea came to put tiles on top.'
'Tiles are the perfect choice for outside. A bit like pallet wood, they are extremely hardy and can withstand any weather situation, so I started looking for blue mosaic style tiles to place on top. They matched the paint perfectly and tied in with our Mediterranean theme.'
'I wanted the table to be the same color as my fence. There are so many fabulous outdoor wood paints to choose from now, you could paint it any color of the rainbow.'
'It cost me £80 in total, £60 for the caster wheels and £20 for the tiles. The pallet came free with the gravel and the paint was leftover from the fence. I love this pallet table. It is still one of my favorite things in the garden and we get a lot of use out of it.'
You will need:
How to:
First, prepare your pallet by making sure there are no nails sticking out or sharp items by removing them. Then roughly sand down your pallet to give it a smoother finish.
Decide on whether you want to keep your pallet in its natural state or paint it. Melanie only painted around the edges and down the sides as you will be fitting tiles to the center so there is little point in painting the whole pallet.
Once the paint was dry, Melanie fixed castor wheels to the bottom of the pallet. Again, there are plenty of castor wheels to choose from, and depending on how high you want your pallet, you can go from 25mm up to 250mm.
Melanie went with 200mm castor wheels. They are extremely easy to fix, just screw the top plate into the corners of the pallet. You can then move your pallet table around the garden easily, just make sure you get castors with brakes on or you may find your pallet moving around of its own accord!
Lastly, she used Gorilla glue to stick them to the pallet and they have lasted well, through a stormy winter and heavy rain. Even if one does come lose (they haven't yet) it is quite easy to re-glue them back onto the pallet. You need to hold the tile down for around 30 seconds so it takes hold.
Be sure to check out all of Melanie's other fabulous DIY designs on her website!
4.  Blaise's backyard pallet coffee table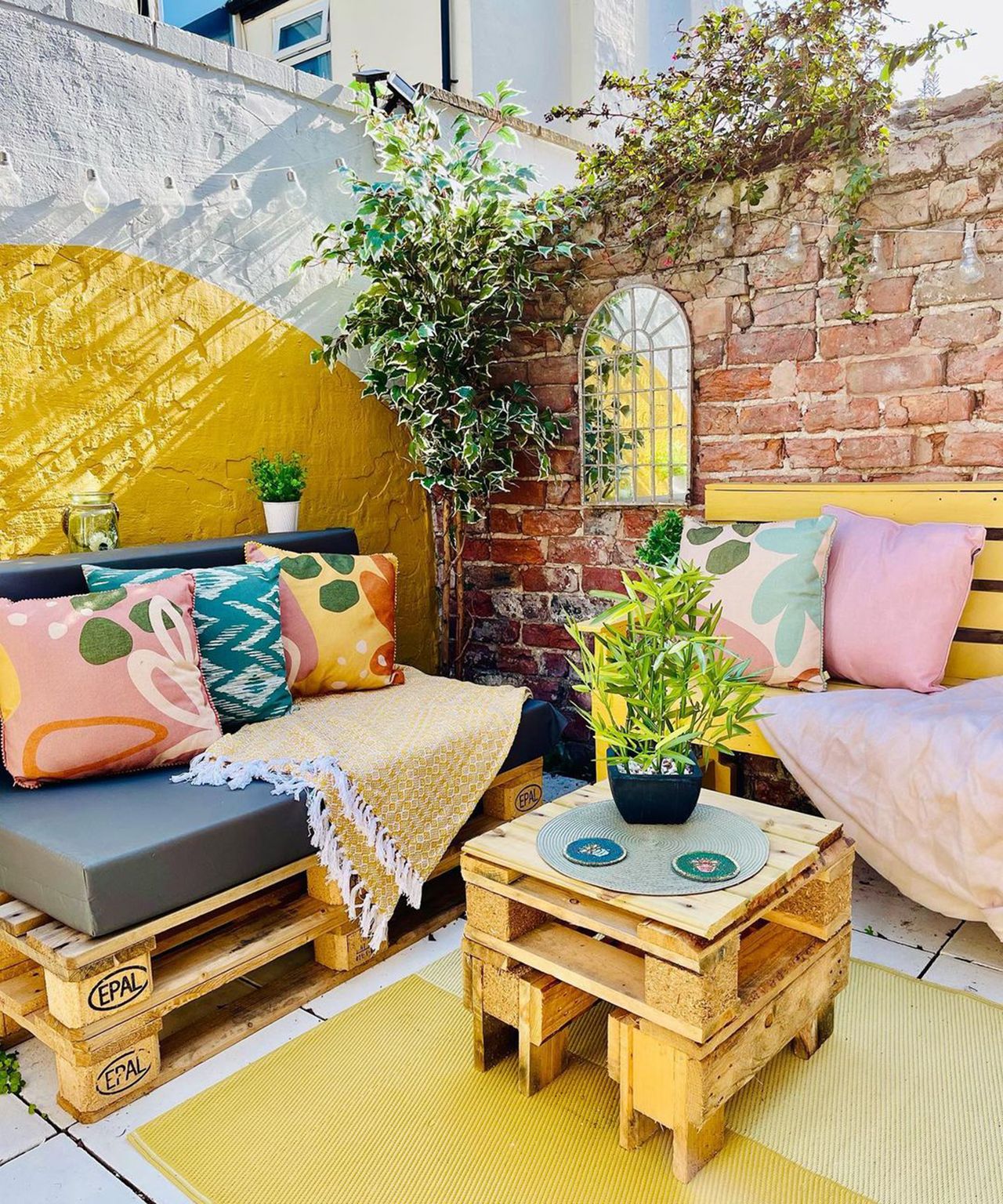 Blaise aka @our_townhouse_by_the_sea proves that pallet coffee tables can look pretty unfinished, without stain or casters… It's all how you style it. In this beautiful backyard backdrop, she's used a cocktail of wall paint on her exterior brickwork and colorful outdoor cushions to contrast against the raw edges of the wooden pallets.
5. Helen's painterly pallet coffee table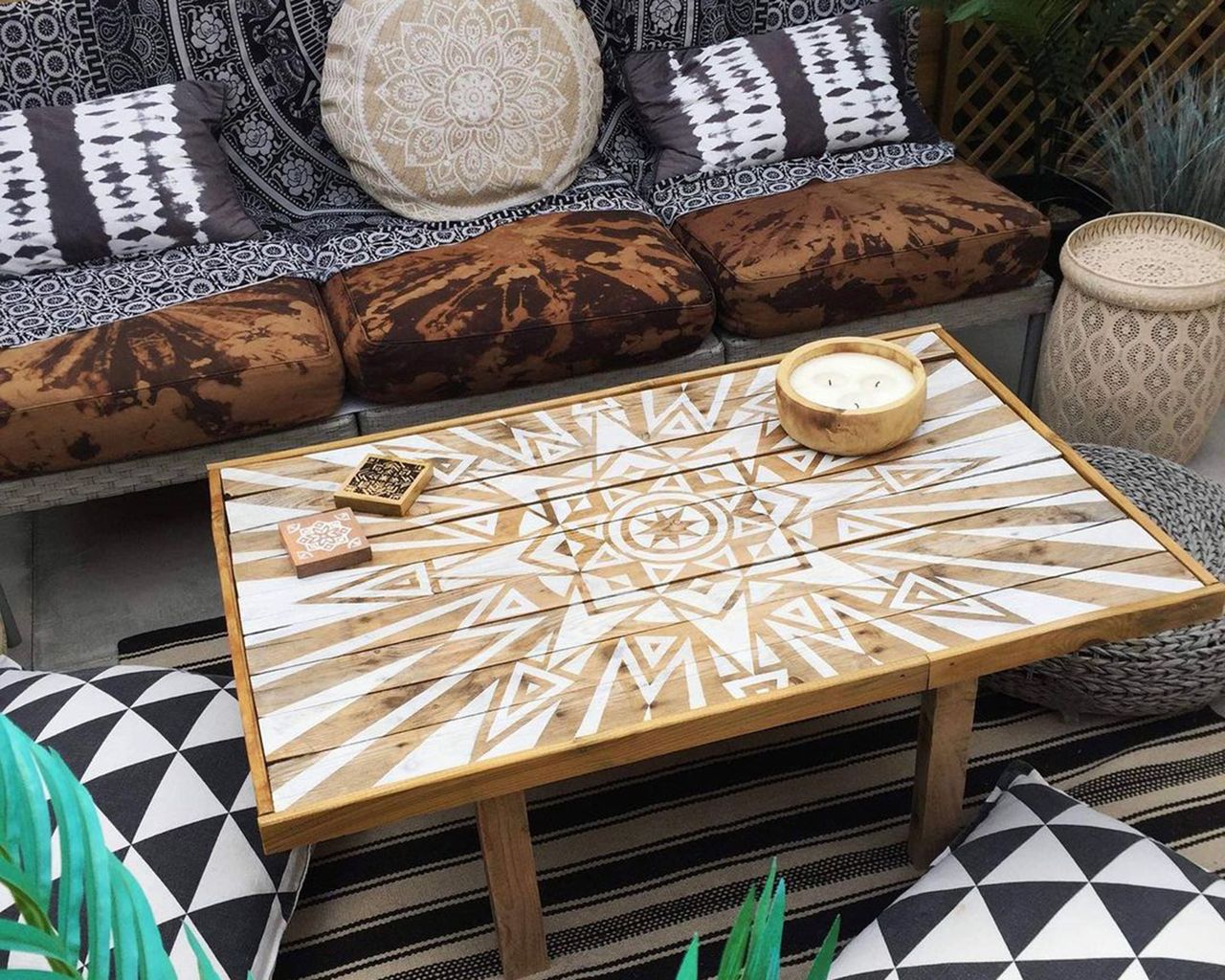 Helen aka @my_tiny_terraced decided to pimp up an existing pallet table using an elaborate yet effective painted design made easy using painters' tape. We think this rectangular shape looks incredible, but if you did want to up the bohemian vibes, you could create a round coffee table with a mandala-inspired design.
You will need:
How to:
Cover your tabletop in Frog tape.
Using a hammer, insert a nail into the middle of the table and tie a piece of string. around the nail.
Tie a pencil to the string and use this to draw circles of varying sizes as a guide.
Use this opportunity to mark out a design and use the utility knife to cut away a decorative design on top of the frog tape.
Use white paint to paint over the frog tape.
Once dry, remove the frog tape and apply a coat of clear varnish, if using.
6. @our.wainscot.home's patio pallet coffee table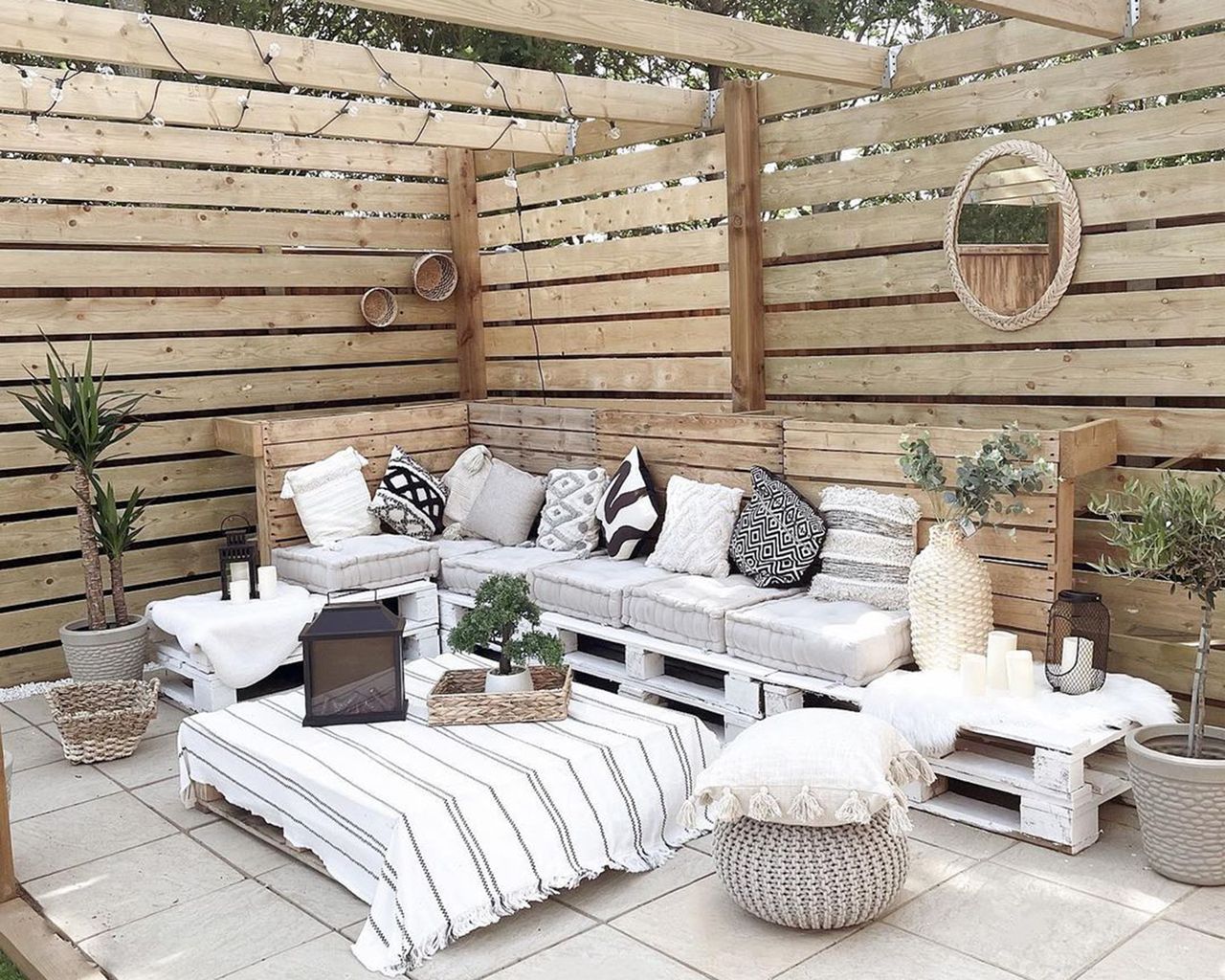 Emily aka @our.wainscot.home gave her garden a glow-up with an outdoor living room area, complete with a wooden pallet coffee table. Instead of getting her hands dirty with DIY, she simply covered her crate in a monochromatic striped outdoor throw. We think this looks great as part of a Scandi-boho scheme for the spring/summer months, is easily interchangeable, and buying budget-friendly blankets keeps the project costs down too.
Come autumn, when the weather turns a little chiller, we'd switch this up for a plaid or rust-colored throw to reflect the change in seasons.
7. @theterracedtales_at_71 pallet coffee table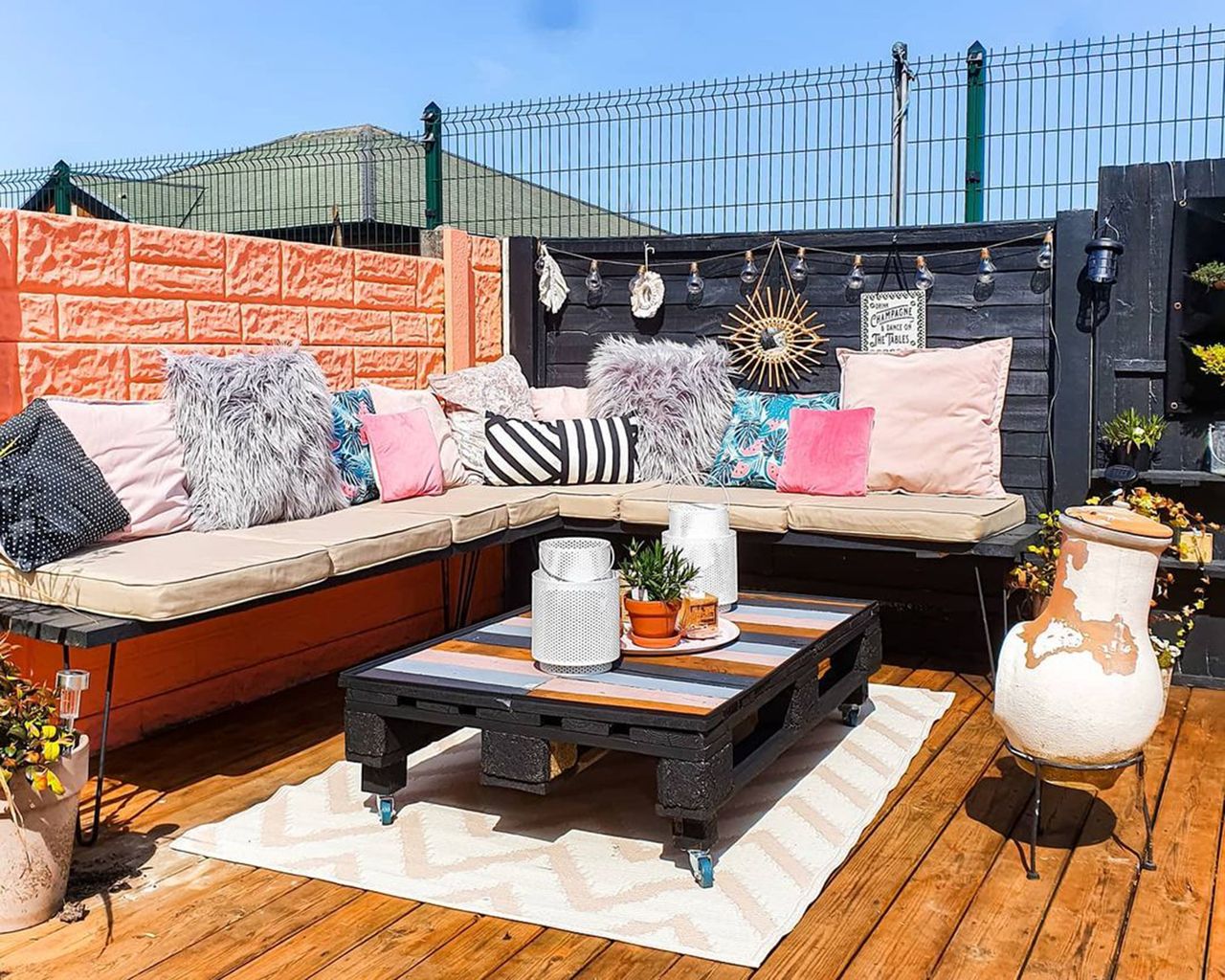 If you can't decide whether you want an edgy black coffee table, or something sweet with contemporary pastel accents… Why not have both. The beauty of a pallet coffee table is that you can design it how you want to suit our indoor or outdoor scheme, for less than you think.
She used casters from Amazon, wood trim from B&Q, paint from Frenchic (in shades Greyhound and Blackjack), and pink paint from Decorating Centre Online. 
8. @baliol.house's glass-topped pallet coffee table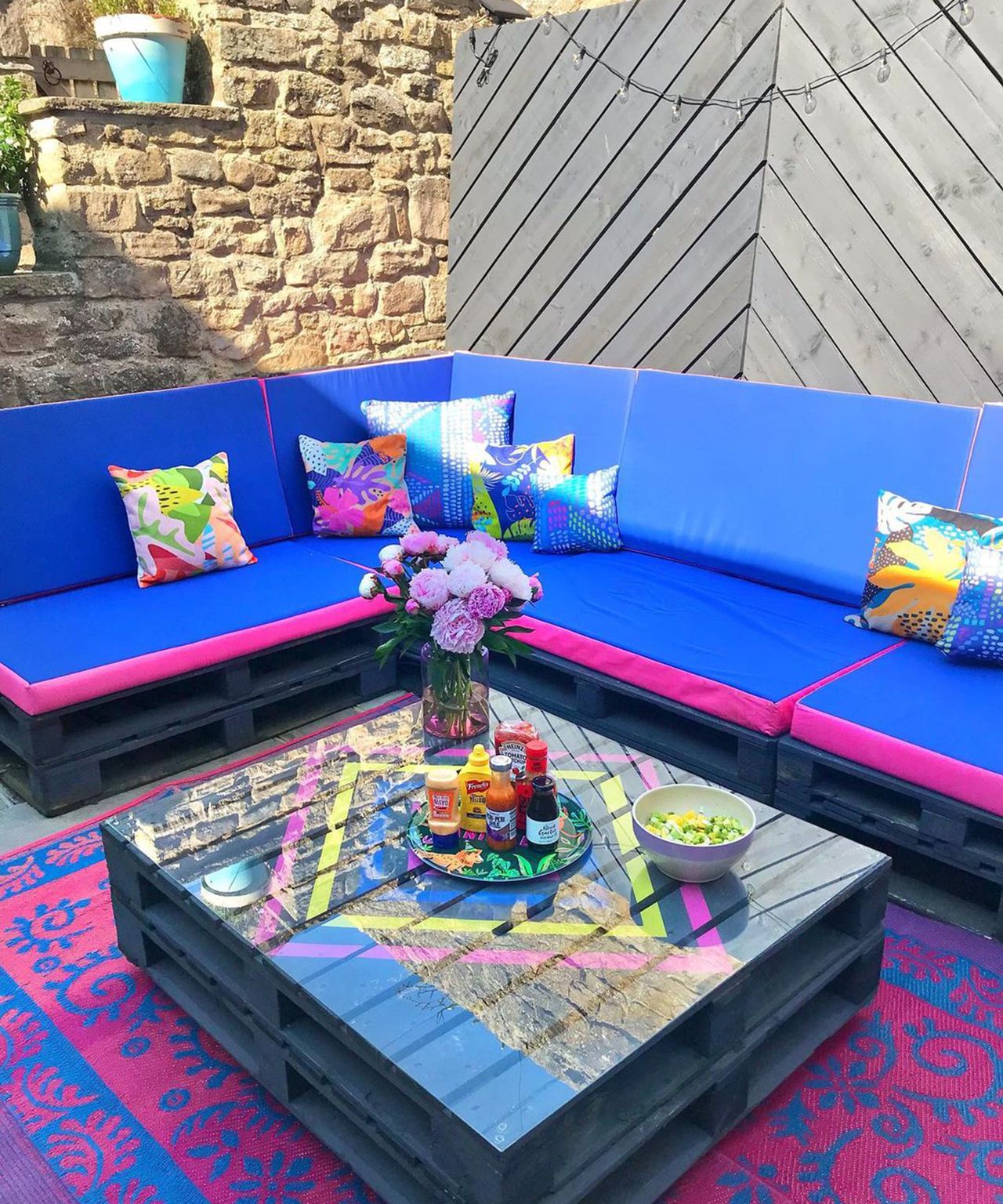 One problem with pallet coffee tables is that small objects and coffee table decor can often slip through the slats, or that they can be a little uneven. One way to tackle this (while making the table look smart) is to add a sheet of glass and convert this rustic piece of furniture into a sophisticated glass coffee table.
9. The Merrythought's chevron pallet coffee table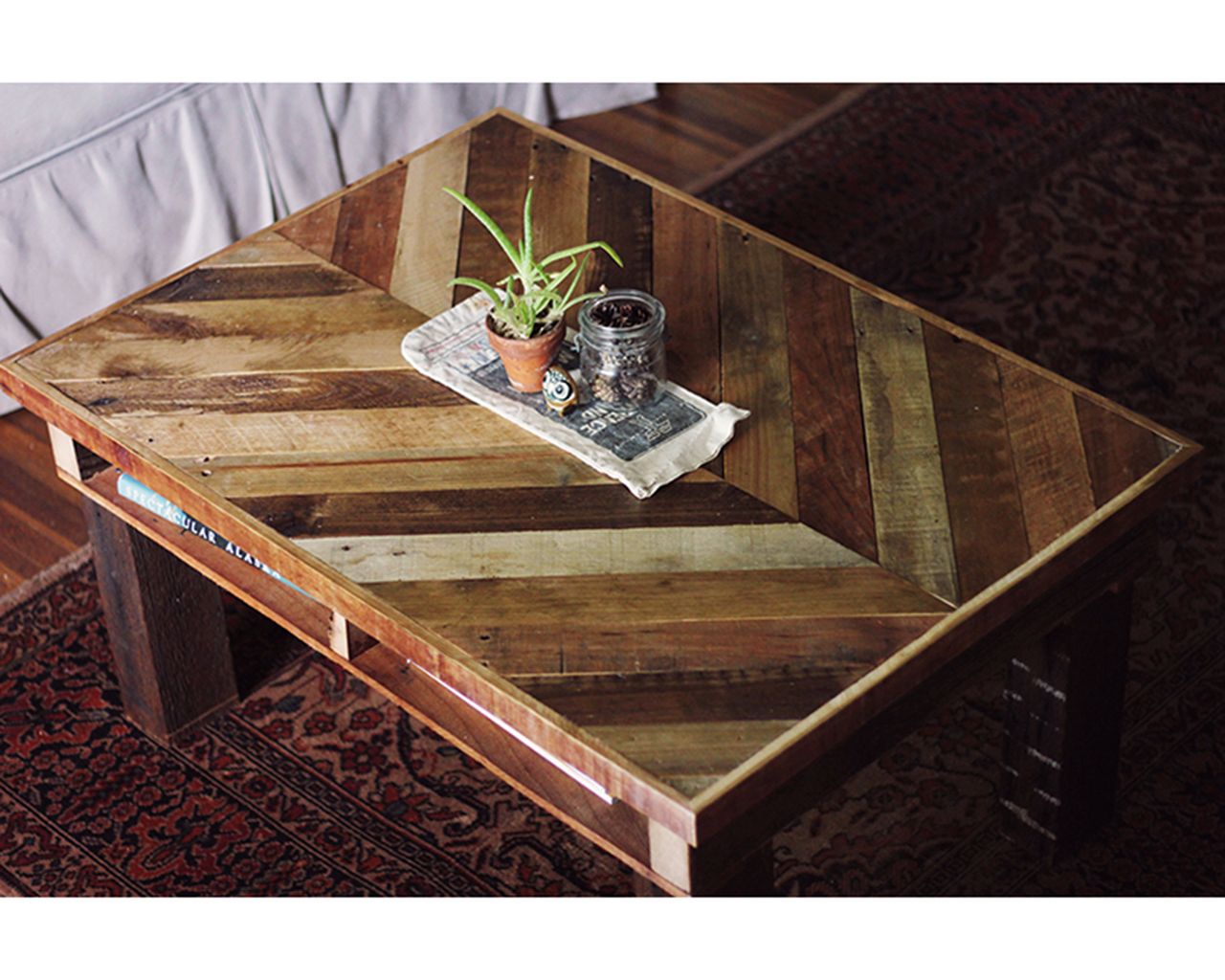 Most pallet coffee tables are limited to one 'level' to display your coffee table decor. But if you're looking for a coffee table with storage (but don't fancy a lift top coffee table or lidded coffee table ottoman – be sure to check out this chic chevron-detailed piece by DIY duo Caitlin and Manda aka The MerryThought that comes with a shelf.
The whole process can be done in about 10 steps (check out their blog for a detailed step-by-step), and some specialist tools are required, but we think you'll agree that this could be a designer table if you didn't know it was handmade.
10. Cuprinol's dazzling yellow DIY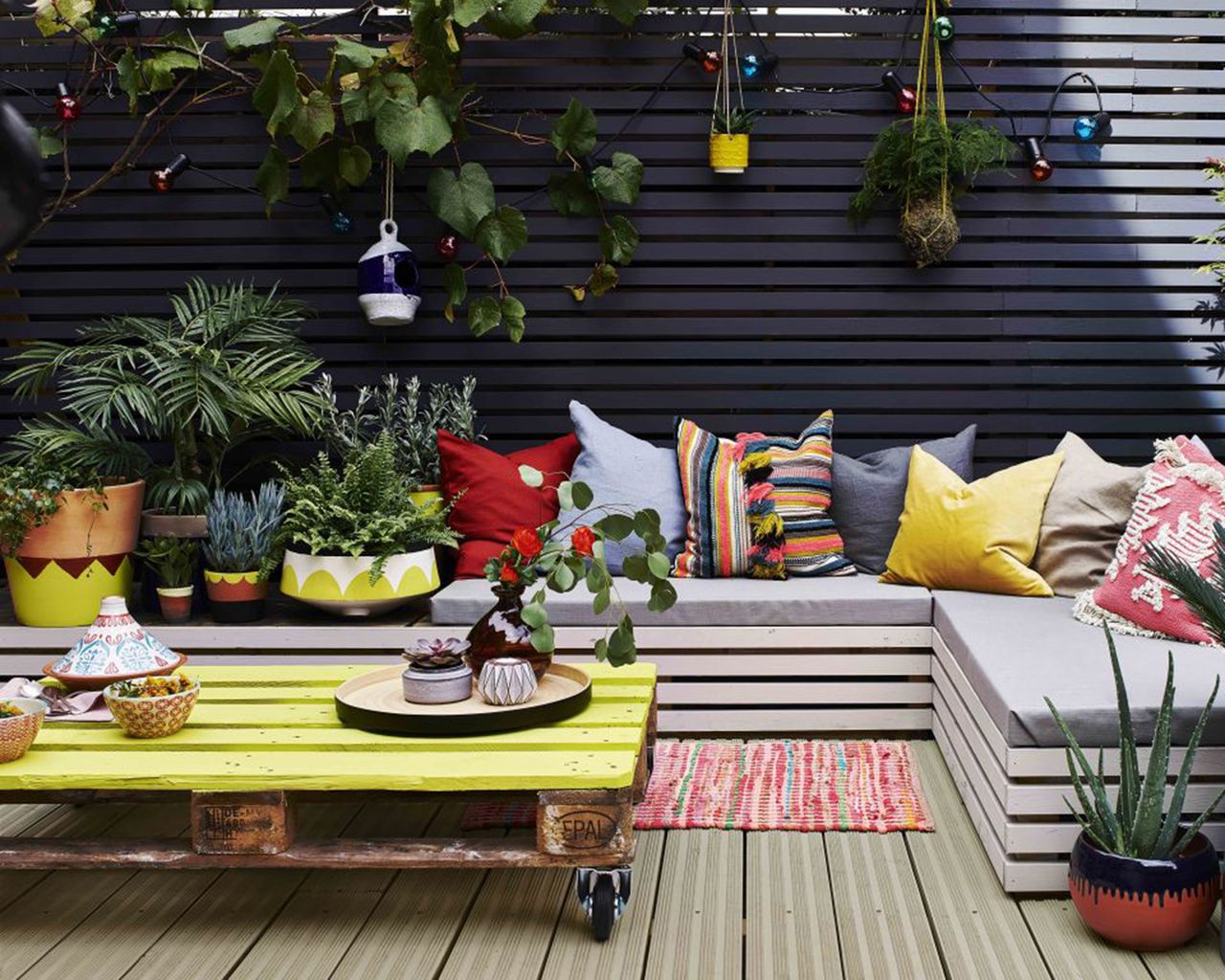 Your backyard is the one place where you can be bold and brave with a bit of color. From bright chairs, and fun patio umbrellas, this is one place where you can highlight your exterior space with hues you'd not normally choose indoors.
Here, the experts at Cuprinol have given their pallet coffee table a generous lick of Dazzling Yellow paint from their Garden Shades range and can be picked up at your local DIY and home improvement store. We found it online at B&Q.
11. Plaid's striped pallet table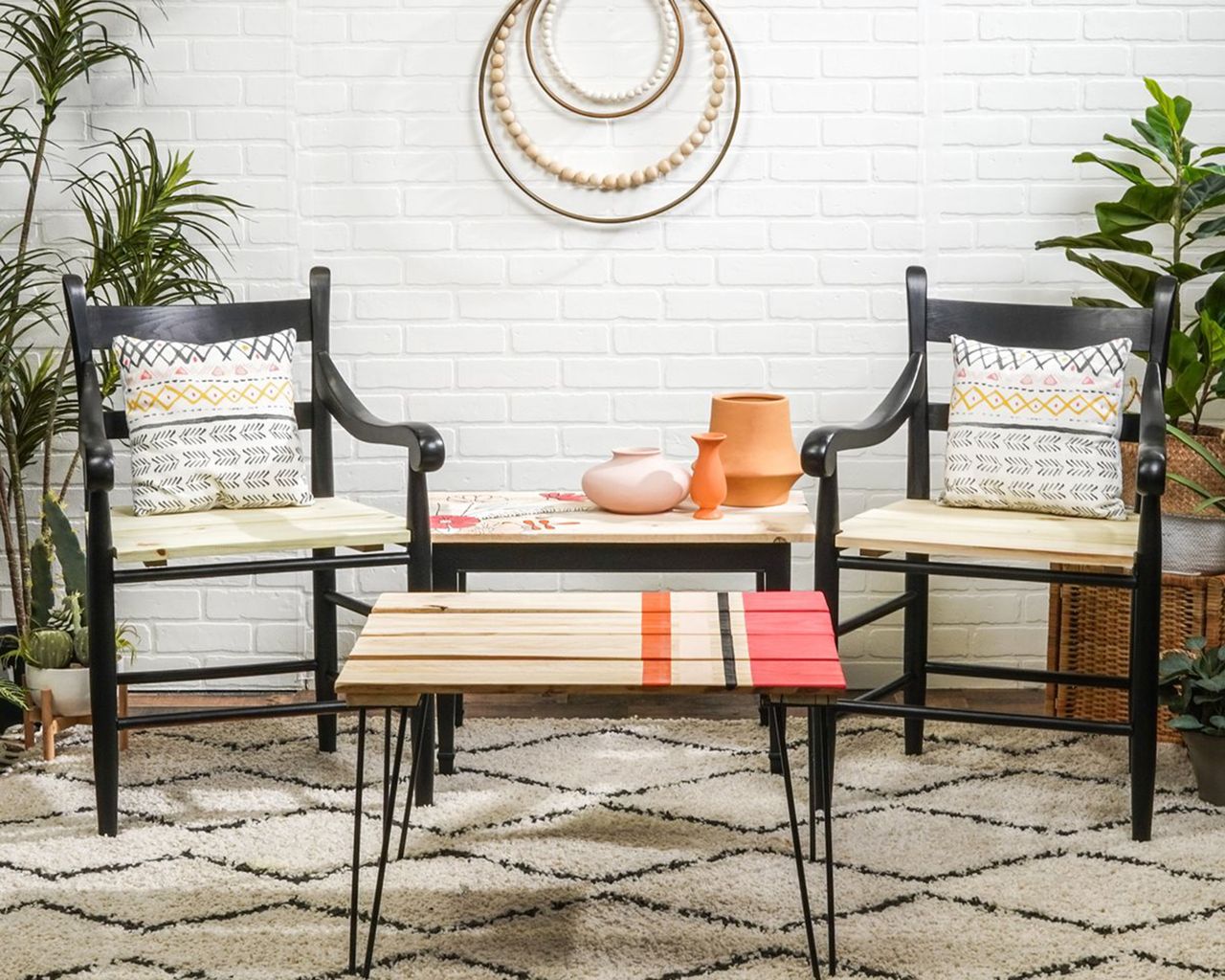 This modern coffee table by Plaid online is so simple to make, and practically everything you need is available on Amazon via the FolkArt craft store. With hairpin legs, it's the perfect coffee table for two to enjoy in a small living room or patio. 
If you are using it outside in a courtyard or snug deck space, why not create a more intimate atmosphere with a patio umbrella? Yes, the materials list is a little extensive, but once you make one of these, all of your friends are going to want one – and they make great gifts!
You will need:
Wooden pallet
Jigsaw
Electric sander
Pry bar
Folkart ® Brush Sets – Artist Variety Set, 10 pc. – 50536
FolkArt ® Finishes – Waterbase Varnish, 8 oz. – 792
Screws
Drill
Drill bits
Screwdriver
16" hairpin legs
Pencil
Ruler
Measuring tape
How to:
Take pallet apart using the pry bar. 
Remove any nails from slats.
Determine the size of your tabletop and cut your slats to length.
Lay out your slats leaving a space in between each.  Measure the slats going across and cut two extra pieces that length for support that will go underneath.
Turn slats over so the bottom of the slats are facing up.
Place the two support pieces across the slats about an inch from the ends. 
Screw the supports into the slats.
While the slats are still upside down, screw the legs into the tabletop.
Turn table upright. Tape off the stripes as shown in photo and paint.  Remove tape.
Once dry brush on Folkart Satin Varnish
How do you make a table out of a wooden pallet?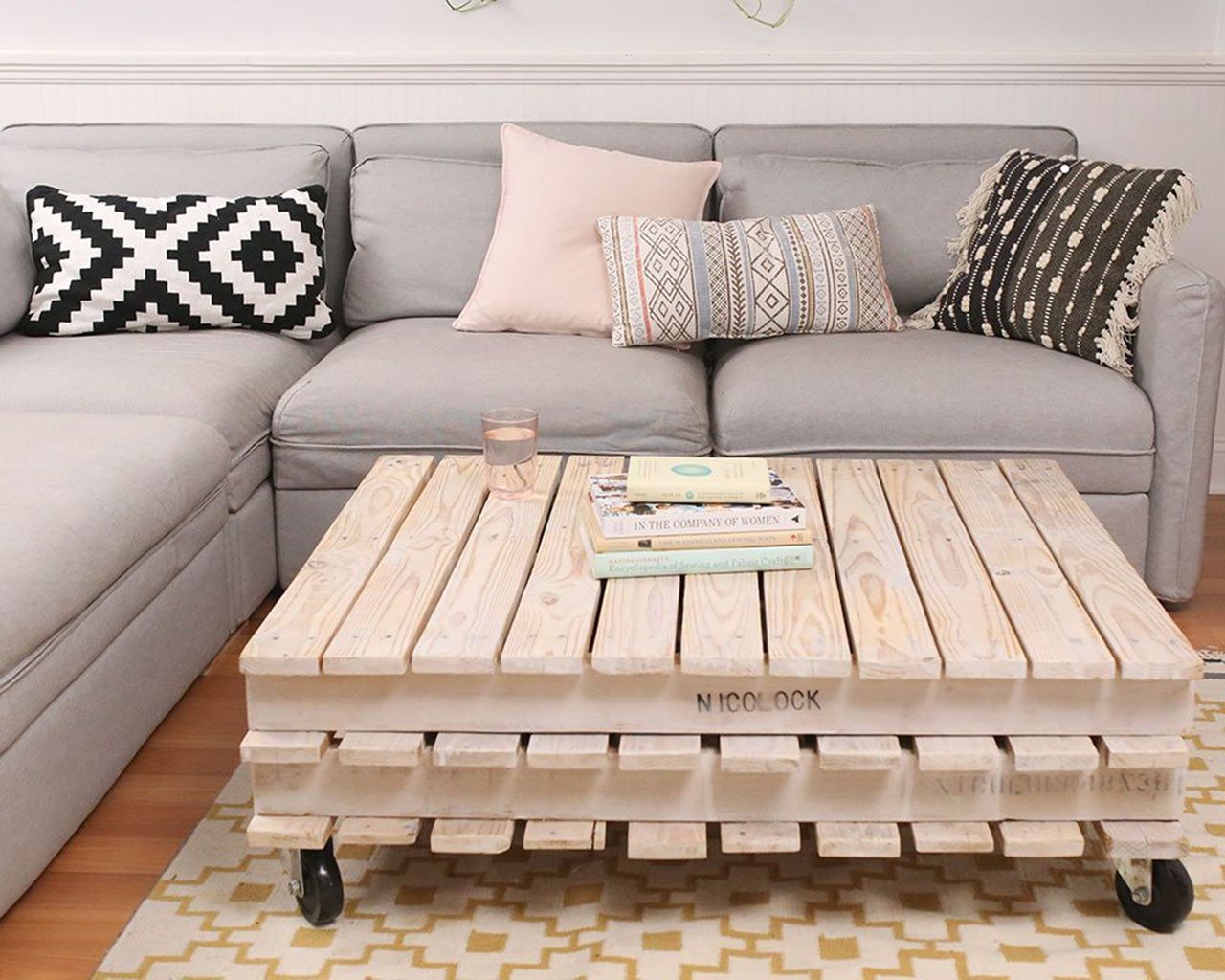 'I built this DIY wood pallet coffee table a few years ago, but I lost all the step-by-step photos. But I realized that even without a full tutorial, I still have some helpful tips to share in case you want to build your own.' says Lindsay, owner of Shrimp Salad Circus.
Finding pallets: If you can't find pallets in good shape, try asking a local shop if you can buy their leftovers. I got mine for $5 each!
Room for error: If you can, pick up a third pallet. That way you can replace any messed up boards.
Mind the gap(s): I actually removed the boards from the top and rearranged them with a couple extras so that there weren't any wide gaps between boards.
Nail removal: If you can't get the nails out of the boards, you can use a reciprocating saw to just cut through them.
Pallets are rough and dirty. Be sure to sand everything really well, starting with a coarse sandpaper and working your way up to a fine grit.
Finishing: I like the look of whitewash for a piece like this, but you could change the vibe with a rich brown stain or a colorful chalk paint.
Wheels: You don't have to add wheels, but this sucker is heavy and hard to move. Plus, the wheels look kind of industrial chic-ish.

link