Norm Early, Denver's first Black district attorney and a champion for victims' rights, has died in Denver of complications from diabetes, according to family members.
"He was always a family man, always smiling. Whenever we would go out to eat, he had the whole restaurant laughing," said his niece, Malika S. Flowers of Atlanta. 
Early was Denver's top prosecutor from 1983 to 1993. Denver Senior County Court Judge Gary Jackson told The Denver Gazette that he and Early met in 1970 when they took a refresher course on the bar exam. They were the only two Black men in the class.
"He was working for the legal aid service of Colorado and I was young deputy DA," Jackson said. "He had that engaging laugh, a big smile. He was a friend to everyone he met. He was a national speaker for prosecutors. He was just a terrific role model." 
Jackson said Early had been ill for some time and that he flew to Atlanta to say his goodbyes last weekend.
Early was the founder and first president of the National Black Prosecutors Association. And at the 1972 Democratic National Convention, he was a Colorado delegate for Shirley Chisholm, the first Black woman to run for president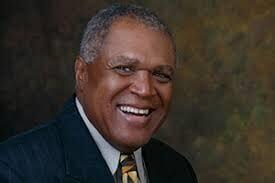 He ran for mayor in 1991 and was the favorite to win until a relatively unknown challenger named Wellington Webb started walking the neighborhoods and knocking on doors in a pair of sneakers and had a come-from-behind win. Webb told the Gazette that the two shook hands after the election and he appointed Early to a position as the Denver Representative to the Stadium District. "He got the best of the deal. I had to handle people complaining about trash collection and he got to hand out with the Denver Broncos and talk about how big the stadium was going to be and eat the hot dogs and popcorn."
Jackson said Early grew up in Washington, D.C., went to Calvin Coolidge High School and graduated from American University.
An article on Early in the university newspaper said his grades weren't stellar and he had no money for college, but he was recruited to run track and got a scholarship to AU. To help pay tuition, Early worked on the school's buildings and grounds crew.
"We rode on the trucks, moved furniture, washed desks, that sort of thing. Most of the guys who worked there were athletes, and they were fun," he told the school paper. "And during the course of working on the trucks, friendships were born."
He went to law school at the University of Illinois Urbana-Champaign and then settled in Denver.
Three weeks ago, Early's portrait was unveiled at a ceremony at the Blair-Caldwell African American Research Library. Webb, Jackson and Kendall Early, Norm Early's son, attended the unveiling.
Early's death brought sadness to a line of Denver prosecutors who worked with him.
Denver District Attorney Beth McCann put out a statement on Early's death Thursday: "Norm was a giant in the Denver DA's office and whenever he was giving a closing argument, we all cleared our schedules to be able to watch. Norm was always passionate about victims of crime and made their well-being a cornerstone of his time as district attorney. He was also a personal friend of mine; a man I respected very much. I will miss him."
Former Denver DA Mitch Morrissey told The Gazette that it was Early who led such noteworthy cases as the Alan Berg murder, the United Bank murders as well as Capitol Hill rapist Quintin Wortham, a man who terrorized Denver in the 1980's. Wortham was convicted and sentenced to nearly 400 years in prison. "Last night not only law enforcement but the entire community lost a larger-than-life character in Norm Early. Norm was Denver's DA and hired me as a prosecutor – I will always be grateful," said Morrissey. 
Norm Early had another son, Ali, who died of cancer three months ago, Jackson said. 
link