THE HOUSTON CHILDREN'S Charity's 25th-anniversary luncheon last November ended with a shock for Laura Ward, the co-founder and president and CEO of the nonprofit that has assisted kids in hard times since 1996. That's when came the surprise announcement that Ward, a self-described "control freak" who thought the program she had arranged for the event had just ended, had been honored by Texas Children's Hospital; it had named its Child Life Room in the Med Center after her.
---
"My first impression was, 'Is this a joke?'" recalls Ward, a beautiful, always thoughtfully composed woman who doesn't take praise easily. "Eventually, I realized it was real, but I could not speak. I just couldn't believe it. I would try to close my mouth, but I would look again at the photo on the big screen of the signage for the new room, and my mouth would fall back open.
"I couldn't be more proud of anything," she says. "I don't know if there's ever going to be anything to top that in my career."
And what a career it's been, with more than three decades of helping kids — a mission that started when she was a child herself, growing up as one of nine siblings in the small Cajun town of Crowley, La. "One thing Mom and Dad instilled in us," recalls Ward, now a mom of three, grandmother of three and wife of iconic Houston TV news anchor Dave Ward, "is you're supposed to wake up every day and do something kind for somebody. It's just a part of the day, like drinking water."
As young as age seven, she helped deliver food to the food insecure in her community, and learned about the joy of giving from her mom, who once took a gold necklace off her neck and gave it to a hotel cleaning lady who admired it. "That's just the way Mother rolled."
Later on, as a young mom trying to help raise cash for her children's school, she discovered she had a gift. "I realized I didn't mind picking up the phone and asking people to pay $5 to eat spaghetti to benefit the kids," she remembers. "I'm not good at much. But I found something I can really do. I got the bug, and I never stopped."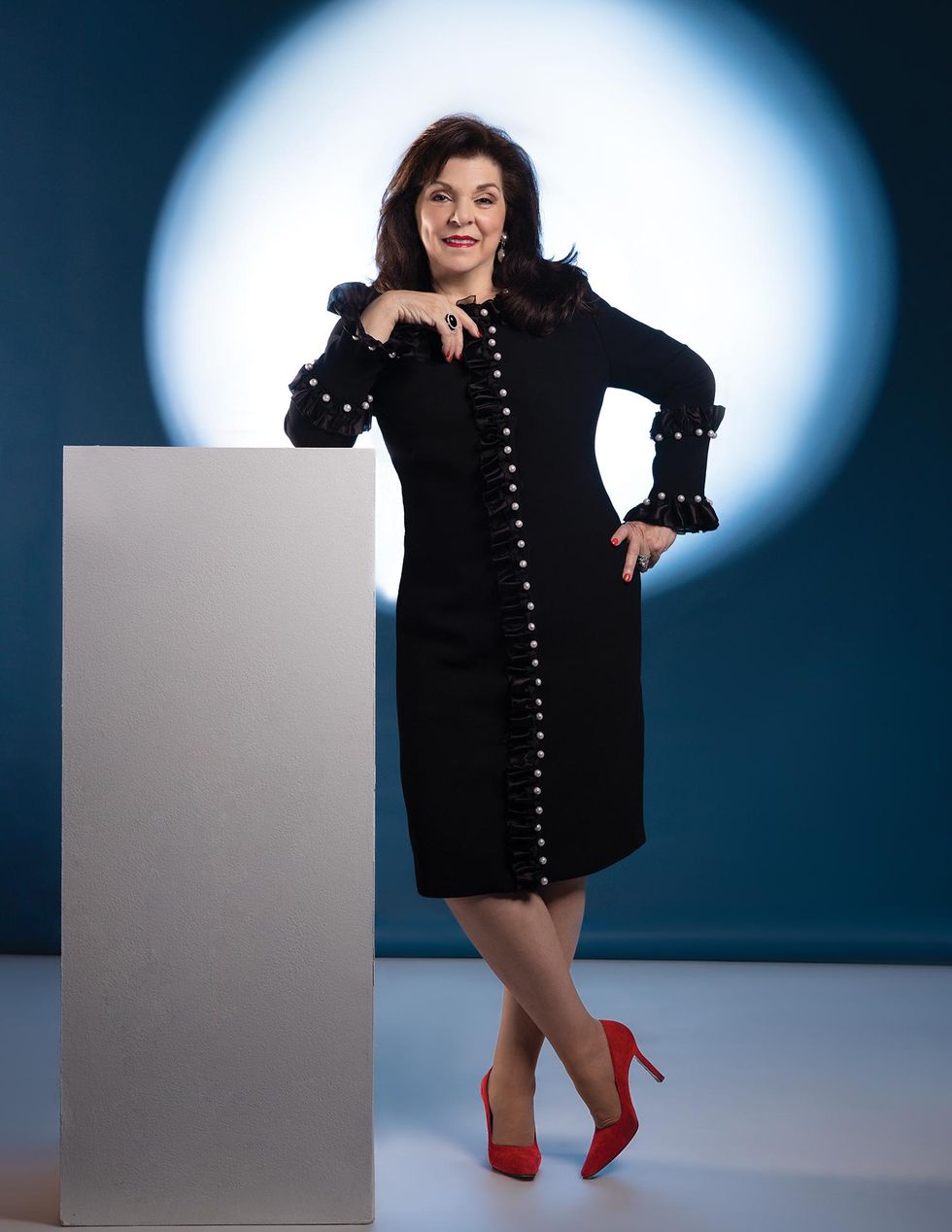 Laura Ward photographed for Houston CityBook by Ashkan Roayaee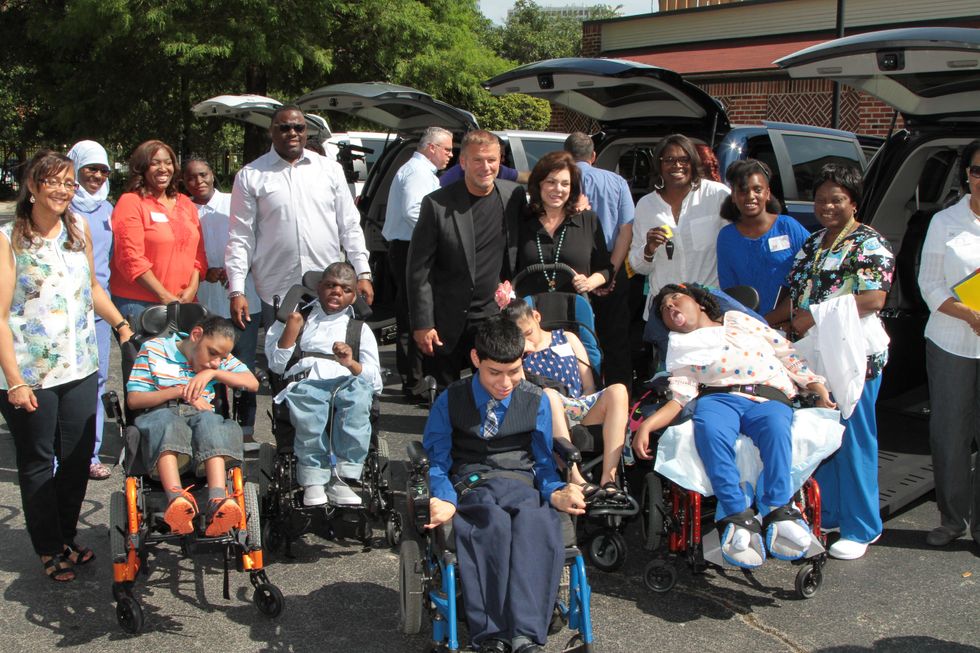 Tilman J. Fertitta, Houston Children's Charity founding member and Chairman of the Board, and Laura giving handicap-accessible vans to disabled children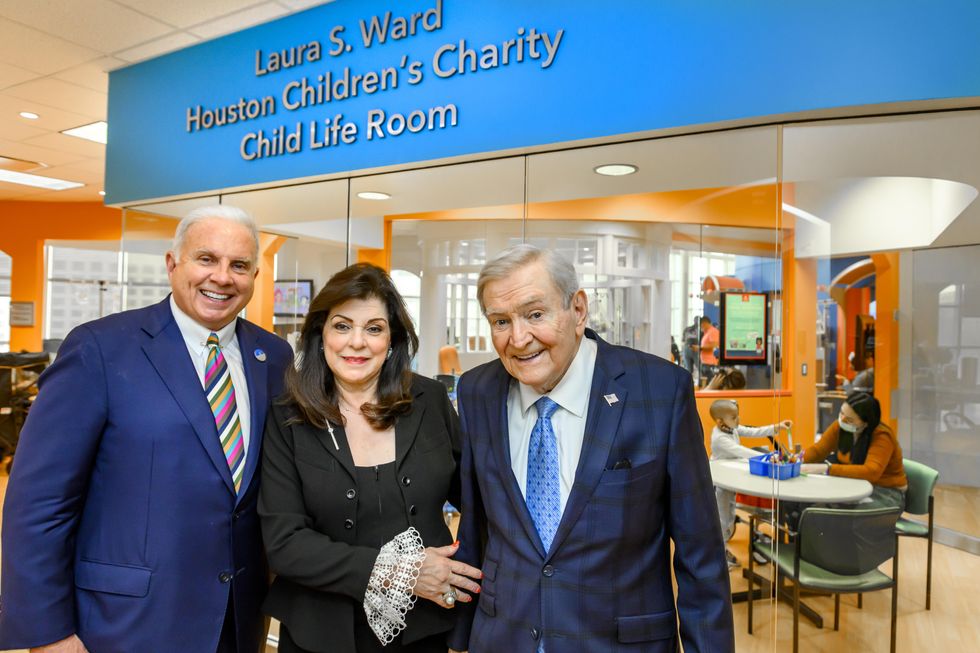 Texas Children's Hospital CEO Mark Wallace with Laura and husband Dave Ward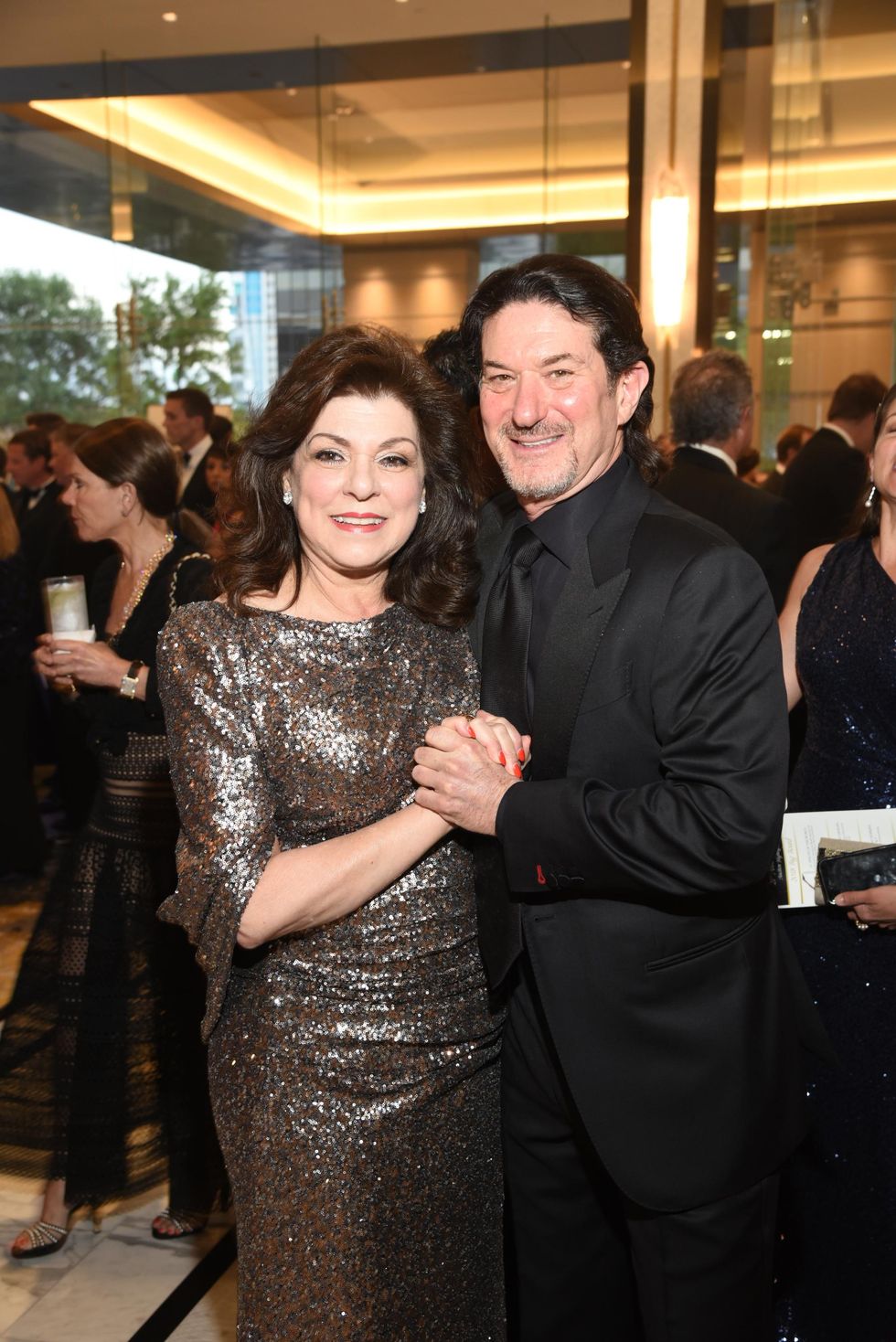 Laura and longtime friend Gary Becker, Vice Chair of the HCC board
Laura, who studied at LSU and was a Kappa Delta sorority sister with revered Houston society scribe Shelby Hodge, would eventually join the boards of many children's charities and, in 1996, become a founding member and leader of Houston Children's Charity, partnering with the likes of Rockets and Post Oak Hotel owner Tilman Fertitta and entertainment mogul Gary Becker, both of whom remain in leadership roles at HCC today. She's personally raised more than $100 million for underserved kids and ranks among the city's top fundraising executives.
For its part, HCC strives to serve the basic, critical needs of children that are not being met by other organizations, explains Laura, who personally engages with underserved kids and their families, assessing hardships firsthand. "We look for the children who are falling through the cracks of the system, and those are our clients."
The organization's many programs include providing beds for kids who don't have one; Laura says it's "staggering" how many Houston children don't. "We give out 100 beds a month," she notes. "Last month we gave away 200, because the Houston Rockets gave us $60,000, and we were able to do more." Each bed setup includes a new mattress, box spring, bed frame, bedsheets and pillow.
"And no matter how many beds we give away — and we have given away thousands since '97 — we always have a waitlist of over a thousand children." Texas Mattress Makers is a partner in the enterprise.
Houston Children's Charity also gives handicapped-accessible vans to families with children who are wheelchair-bound. "We want to feed a child," says Ward. "We want a child to have a bed. And no kid should be stuck at home all day because they've turned 17 and gotten big and their mama can't get them out of their wheelchair. No child should live that way."
An inspiring leader, Laura has contributed her time and expertise to numerous other charities over the years, such as the Arbor School and the Houston Furniture Bank. She led the capital campaign for the Dave Ward Building at Crime Stoppers of Houston, for which $10 million was raised, and she has chaired the Houston Police Foundation's gala many times, raising over $9 million to support Houston's officers. For her many efforts, she has been inducted into the Greater Houston Women's Hall of Fame, named one of the city's 50 most influential women by HoustonWoman Magazine, listed as a Crohn's and Colitis Foundation Woman of Distinction, designated a "Most Admired CEO" by the Houston Business Journal, honored at the Easter Seals Greater Houston's "Hats Off to Mothers" luncheon and awarded "The Nikki Richnow Freedom to Fly Award" by Arrow's Freedom Place. She was also an honoree at the Tickled Pink Luncheon this year.
Despite it all, she's humble about her accomplishments, sharing credit with her HCC board, and gushing not about herself but her "most incredible" husband. "Talk about support," she says of Dave. "He emceed our gala for 22 years. The man has just given his life to this city. I feel blessed every day that I share a life with such a remarkable man. Nobody really knows the depth of his heart for this city."
The busy Laura just wrapped the Houston Children's Charity's 25th annual gala Oct. 14 at the Post Oak Hotel, which came after 26 years due to a Covid hiatus. The event featured a raucous performance by Pat Benatar and Neil Giraldo, with most of dozens of tables sold thanks to Laura herself picking up the phone and asking for help for kids — just as she did with those spaghetti dinners all those years ago. She's proud of how successful and popular the gala — with its 2022 haul of more than $3.6 million! — has become, considering it's not one of the long-legacy annual events like those for the opera or ballet.
"We're just a children's charity," she says with a wry smile, "that puts on one hell of a party."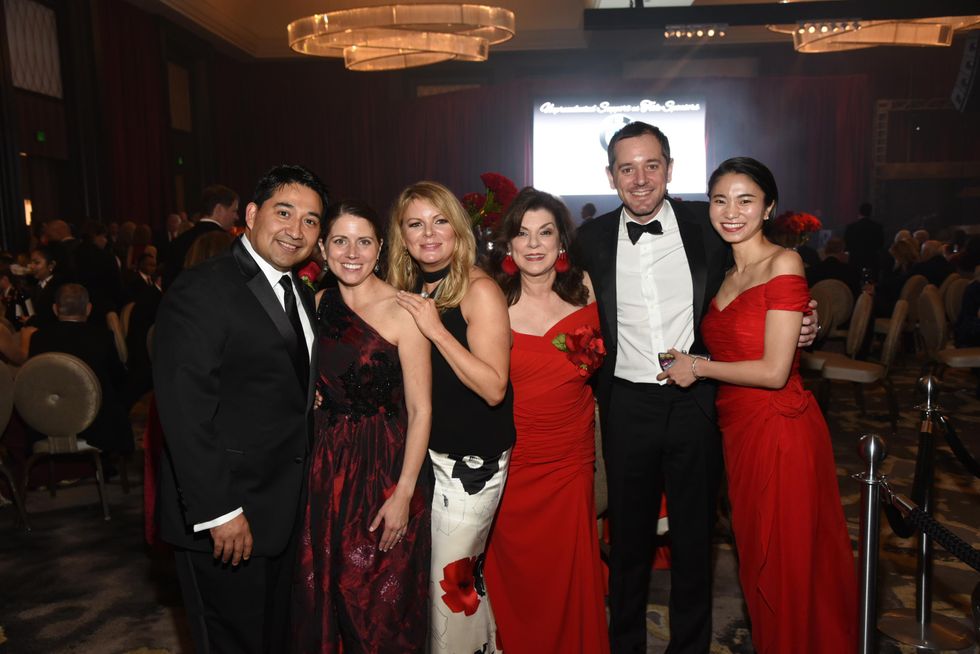 Laura with her children and their spouses — Corey Rowe Flores, Remigio Flores, Rachelle Rowe, John Rowe and Nozomi Matsumoto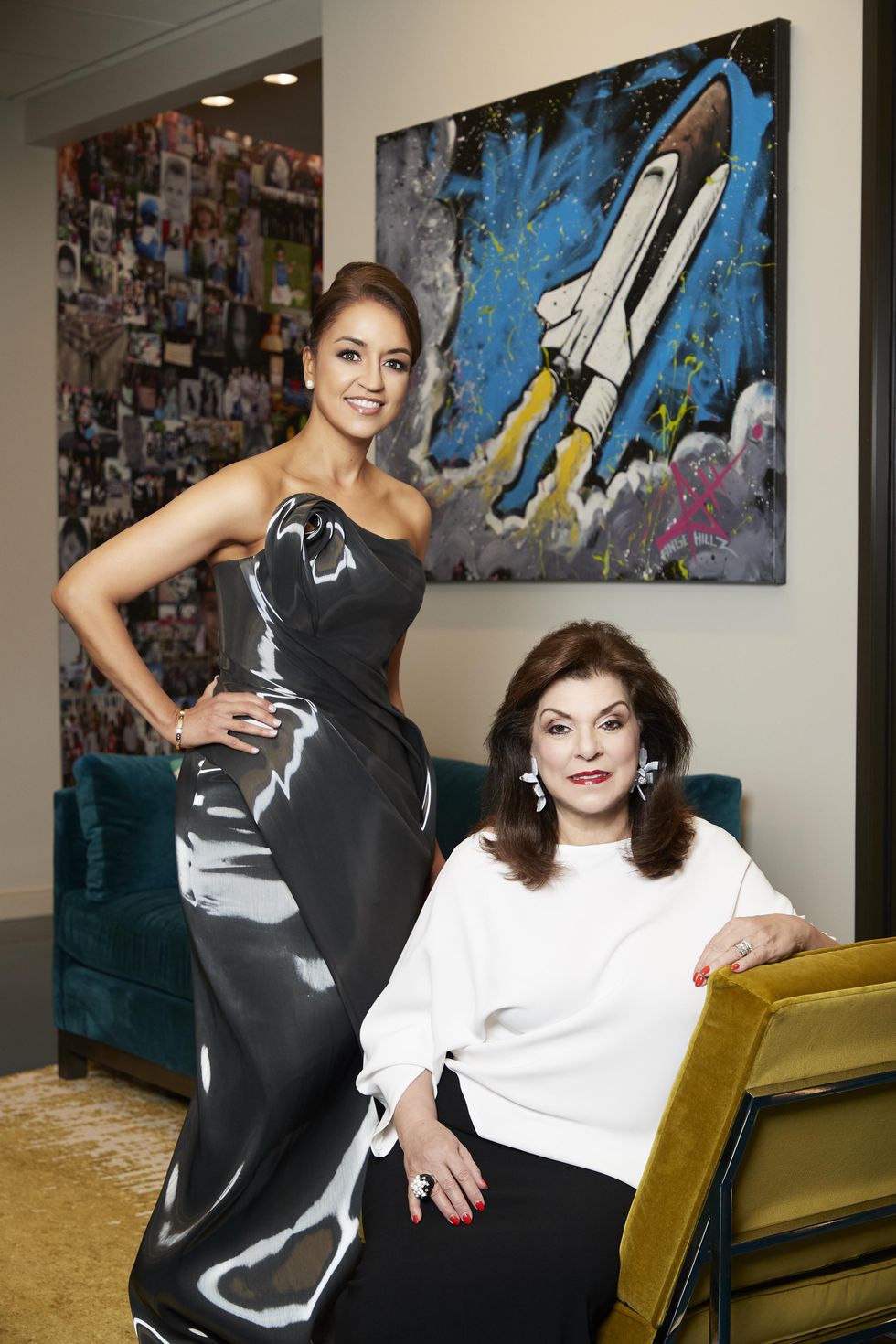 Laura and Maria Moncada Alaoui, GM of BMW of West Houston and longtime title sponsor of Houston Children's Charity Gala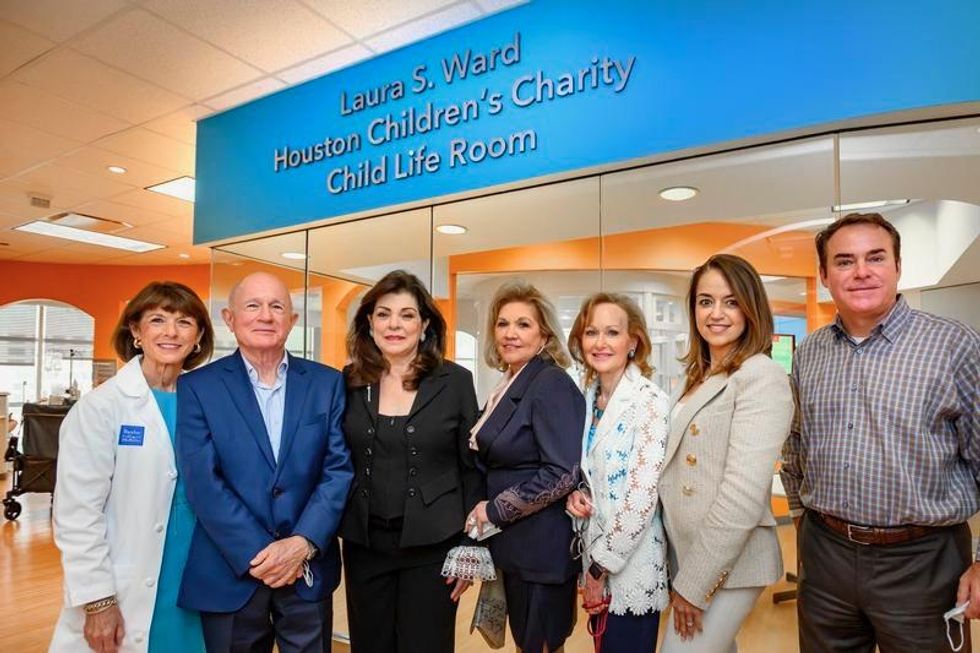 Dr. Susan Blaney, HCC founding board member Grant Guthrie, Laura Ward, HCC board member Edna Meyer-Nelson, devoted friend Carol Sawyer, and HCC board members Maria Moncada Alaoui and John Johnson, president of Silver Eagle Distributors
link