Strong economy, population growth, high employment — can more new home construction be too far behind?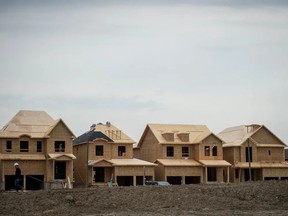 Article content
I rather think the positive Saskatoon labour force story that landed in late February did not get the attention it deserved.
Article content
Considering the pandemic, supply chain disruptions, inflation and rising interest rates, and a host of related disruptive economic factors, our city's job growth — about which I've been bullish in the recent past — kind of surprised even me.
Article content
Indeed, the City of Saskatoon issued a news release to crow about our 2022 success, and rightly so.
Saskatoon's Census Metropolitan Area (CMA) led Canada in year-over-year employment growth at 9.6 per cent last year AND had the highest employment rate in Canada at 68.3 per cent.
Yup. We were No. 1.
We also had the highest annual job growth recorded over the last 15 years, apparently: 16,700 more people were employed in 2022 over 2021, accounting for 84 per cent of Saskatchewan's employment growth.
Article content
This is not just a COVID rebound, either, if I'm reading this correctly. Saskatoon had 59,000-plus more people employed than in 2006, an increase of 45.3 per cent.
Even construction employment, which has been a problem for some time, was up … which leads me into new home building.
As you likely know by now, new home construction on the single-family side has been crashed by the Bank of Canada's rising interest rates. Builders have remained busy with multi-family projects, largely purpose-built for rental; but single-family homes, not so much.
The Saskatoon and Region Home Builders Association (SRHBA), in its recent 2022 report, said the year brought 1,151 new home sales (total), 31 per cent below the 20-year average. Permits fell to 2,130, a 29.4 per cent decrease from 2021.
Article content
Much of the blame goes to mortgage rates, which rose from 3.44 per cent to 5.89 per cent in one year. (It must also be noted that inflation drove up construction costs, as well.)
That led to a 22.7 per cent increase in monthly payments on a $450,000 mortgage with a 25-year amortization. And that led to scuttled deals.
Given that new housing activity is a lagging but excellent barometer of economic conditions, I'm going to stick my neck out and say this situation cannot go on. Here is why.
One: As the SHRBA points out, housing decisions are driven more by family needs than anything else. Those families are out there, and they need homes big enough to accommodate a kid or two or four. We flatly do not have enough inventory to accommodate them, new or existing.
Article content
Two: Not just our labour market improved in 2022. Our population also increased to 348,000 (CMA), largely driven by 7,167 newcomers who arrived last year. I grant you some of them may not yet be able to afford single-family homes, but just wait.
Three: The home building industry has 2,350 jobs going begging, according to the SHRBA; its labour force has reduced by 30.5 per cent since 2015 — rather unsurprising, considering 2015's correlation with the end of the boom. But construction employment, which admittedly is not necessarily home building, is up by 2,900. That has to indicate some movement in the right direction.
Four: Saskatoon is expected to lead Canada in GDP growth this year and last, with increases of 7.2 and 3.9 per cent respectively. This is not chicken feed, although it's worth noting the Conference Board of Canada is slightly less bullish as of late February about Saskatchewan's prospects. Still, the provincial forecast is well on the upside.
Article content
Five: Interest rate hikes, at least of any significance, should stop as inflation settles. (They better.)
I must say I'm slightly baffled that all of this rather remarkable economic news has not yet started to spur more new home sales and building activity. The provincial NDP, backed by the Saskatchewan Urban Municipalities Association, is calling on the government to kill the PST on construction projects. That might help unblock this situation.
But still, Saskatoon is popping compared to much of Canada, and as most economic gurus will tell you, that's perhaps obviously the most important ingredient in residential real estate activity, of all kinds.
Then real estate activity spurs more economic activity — everything from jobs to furniture sales — and that, in turn, drives more economic growth.
Article content
It's a pretty reliable cycle, at least most of the time. Certainly, these last three years have been stranger than most.
Yet the fundamentals are just that. Strong economy, population growth, high employment — can more new home construction be too far behind?
Joanne Paulson is a Saskatoon author and freelance journalist who has been covering real estate, off and on, for more than 25 years. Do you have a fascinating real estate story to share? Get in touch at [email protected].
Joanne Paulson: Saskatoon rental housing market tightens

Joanne Paulson: Harrowing numbers in Saskatoon new home sales report
The news seems to be flying at us faster all the time. From COVID-19 updates to politics and crime and everything in between, it can be hard to keep up. With that in mind, the Saskatoon StarPhoenix has created an Afternoon Headlines newsletter that can be delivered daily to your inbox to help make sure you are up to date with the most vital news of the day. Click here to subscribe.
link