Edmonton is coming back. The big challenge now is to revitalize a downtown that has lost its shine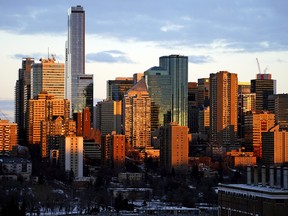 Article content
This past weekend, my wife and I visited relatives and friends in Edmonton for an in-person event, our first in almost three years. Having been born and raised in the city, I take great interest in its progress, including the Oilers winning their first-round playoff series against Los Angeles. Edmontonians showed overwhelming community pride, honking well into the night — unfortunately, rather close to our hotel. Not to fear, I was not about to call the prime minister to invoke the Emergencies Act. Experiencing Edmonton's energetic spirit was far more satisfying than an extra hour's sleep.
Article content
The Pope may have the same kind of experience, minus the honking, when he visits the city in July to apologize to Indigenous peoples for the church's having run residential schools and to speak to tens of thousands of followers, likely at an outdoor event. If he's well briefed, he might hear about new capital-intensive hydrogen megaprojects coming on stream or the numerous job postings by well-known companies, including Microsoft, Enbridge, Walmart and Stantec, in many cases employing Indigenous workers. He might also learn that the oil sands are not the environment's bogey man, given the industry's new technologies to drive down emissions and restore land to its original state. With the Russian-Ukrainian war, oil and natural gas have become even more essential as cheap and reliable sources of energy as the transition to non-fossil sources continues over the next few decades.
Article content
After six hard years of collapsed oil prices and then a pandemic, Edmonton's economy is finally on a roll. The many business leaders I spoke to are optimistic about Edmonton's and Alberta's blossoming opportunities in a diversified economy. Alberta's entrepreneurial spirit is on full display in Edmonton, helped along by the Alberta government's "open for business" tax and regulatory strategies.
Along with this good news, though, comes some bad. Edmonton's economy, like the rest of Canada's, faces inflationary challenges arising from labour and other supply shortages. Energy and commodity prices are pushing up business costs and forcing owners to raise consumer prices. One business owner told me the price of furniture is up 40 per cent over last year. And delivery takes 44 weeks — for furniture made in Canada! Foreign-made products can be on order for more than a year
Article content
It's not just inflation in producer prices that is hurting Alberta businesses, however. So are labour shortages. Wages are accelerating, especially for skilled labour. But the biggest challenge is hiring unskilled labour. As I heard from several owners, even if potential employees show up for an interview and are offered a job, they may not appear on the first day of work. And if they do, it may be only a few days before they accept another job.
None of this is surprising to anyone in Edmonton. Energy prices for heating and transportation have gone through the roof. So have housing costs. Though an average house costs about a third what it would in Toronto, housing prices were up nine per cent in April, year over year.
Article content
Food is also more expensive. Rising grain prices due to supply shortages in Europe are helping Alberta farmers earn more profits, but rising fertilizer prices, though they benefit producers like Calgary's Nutrien, eat into those profits. Higher grain prices also make it more expensive to produce meat products. In the U.S., year-over-year prices for food consumed at home were up 10.8 per cent in April. Canada's food prices are rising quickly too: 9.8 per cent in April, according to Wednesday's CPI release.
Jack Mintz: Ontario party leaders should be talking education reform

Jack M. Mintz: Global corporate tax faces strong headwinds

Jack M. Mintz: Time for a tax revolt
Although the economic climate has definitely improved, many Edmonton businesses are concerned about rising interest rates and a possible recession induced by tighter monetary policy. The Bank of Canada's credibility has taken a hit because of its failure to appreciate the scale of our inflation problem. This has eroded confidence for many business leaders, who worry the bank is counting too much on a soft landing.
Article content
And then there is the ugly. The pandemic has laid waste to Edmonton's downtown, with many closed-up businesses now lining the main street, Jasper Avenue. Like several other buildings, the Paramount Theatre, where I saw many movies as a child, is a vacant eyesore in the middle of downtown. The historic Hudson's Bay building, where my parents had lunch every day with friends, is now dilapidated, ready to be refurbished — or torn down.
Walking down Jasper Avenue, we watched police cars in chase almost every five minutes. We saw three men near the venerable Macdonald Hotel using meth pipes and, in a separate incident, someone being arrested. This does not give visitors confidence that downtown is safe. The leftish municipal government, still on a "defund the police" kick, has not figured that out yet.
The saddest image from our visit was of the many homeless people lying on downtown streets, as many as you would see in larger cities. That's new for Edmonton. Providing housing and social support to those in need is now a major challenge but at least it is easier to raise funds when the economy is doing well than when it is in the doldrums.
Edmonton is coming back. Many residents take great pride in their city, and for good reason. The big challenge now is to revitalize a downtown that has lost its shine. Edmonton's pervasive and contagious community spirit means it's up to the task.
link