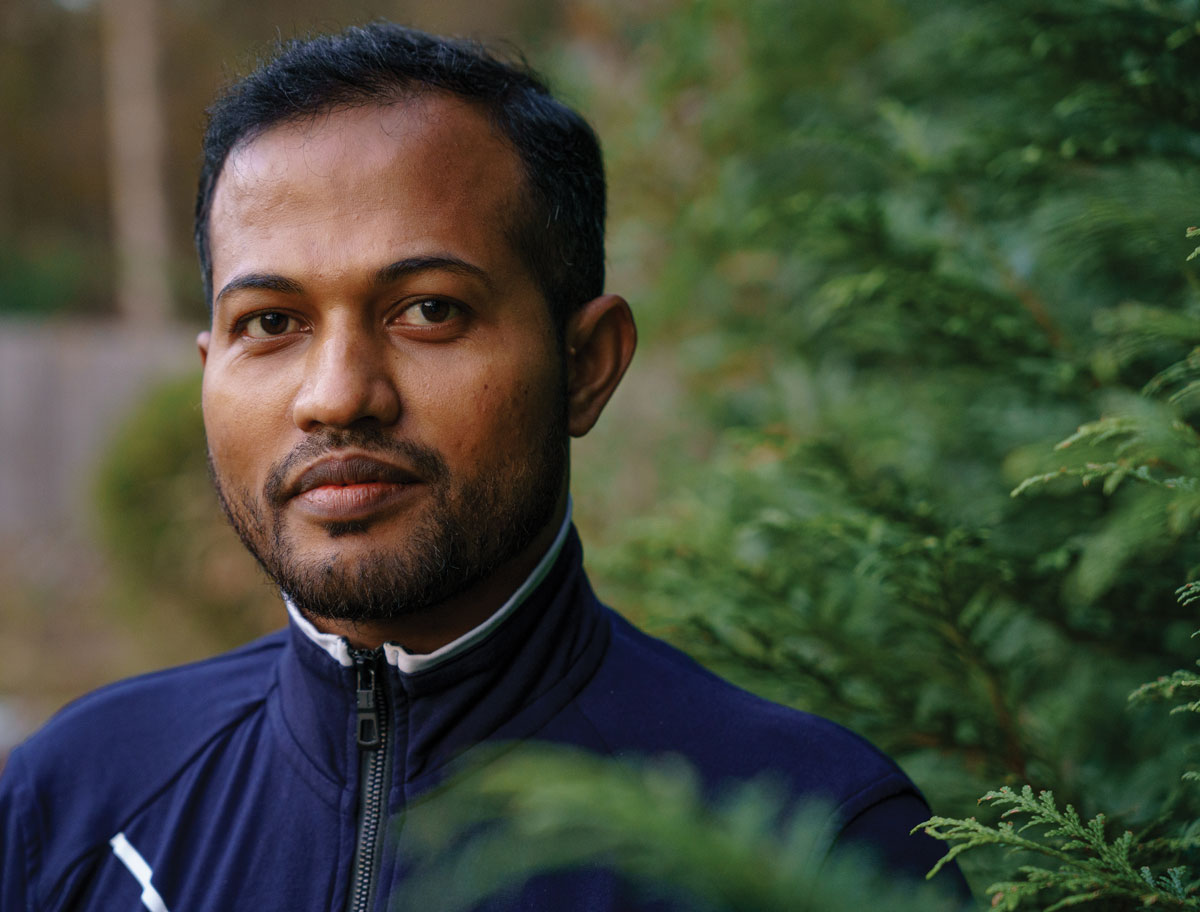 After more than 20 hours of air travel—Atlanta to Doha, Doha to Dhaka—Abu Talib finally reached his destination: a small airport in Cox's Bazar, a city off Bangladesh's southwest coast and home to the largest refugee camp in the world. It's where almost 1 million people from the Rohingya community, a persecuted ethnic minority in neighboring Myanmar, live. Moving through the terminal, Talib was excited. On the other side of the gate were his mom and dad, whom he last saw when he left home as a child, more than a decade and a half ago.
His parents had obtained a special permit to leave the refugee camp—which has been fenced in by barbed wire since the beginning of the pandemic—so they could greet their son at the airport. "My father was hugging me and crying for almost five minutes. My mom was crying, and I was crying, too. Because after 16 years, I saw them in person," Talib said. Now 28 years old, he projects an air of confidence and has a smile that lights up his entire face. His parents were accompanied by relatives Talib could barely recognize. "Some became older, or fat, or skinny, some didn't have a beard, now they have a beard. They say, You know me?" In some cases, he couldn't remember.
Talib had stayed connected with his parents since he left, speaking to them by phone from his home in Clarkston, wiring money via Western Union for their medical care, and watching countless videos of conditions in the refugee camps. But nothing could prepare him for what he saw in person. "I cried more than 50 times," he said. In the camps, his parents lived like everyone else: in a small area with tarp for walls and no floors, just dirt. They slept on a mat on the ground. There was no furniture. (To celebrate Talib's arrival, his family had rented tables so he could sit in a chair for meals.) "They sleep on the floor, eat on the floor, sit on the floor," he said. The biggest issue, though, wasn't where to sit. It was sanitation: The toilet was also right there on the floor, next to where Talib's parents ate and slept. "There is no flush system. It smells really bad," he said. "A lot of people have sickness and skin disease."
Conditions in the camps have been deteriorating, as overcrowding has led to outbreaks of scabies and increased violence. And though the U.S. recently gave $170 million, a United Nations humanitarian appeal for Rohingya refugees met just half of its fundraising goal for 2022. The international community's attention has moved elsewhere, to political and humanitarian crises in Afghanistan and Ukraine. For those living in the camps, their situation seems to have no end in sight.
But Talib's arrival, he said, was a sign of hope for his family and friends. He had made it out. He lives in America. He has money. He can help.
His new status as a U.S. citizen, though, set him apart, in ways both big and small. Before he could enter, he was assigned an official escort from Bangladesh's National Security Intelligence to monitor his movements around the camps. Instead of staying with his parents, he slept in a hotel room several miles away, something he said was required for foreigners because of safety issues.
Talib is among the over 40,000 refugees who have settled in Georgia—mostly in the metro Atlanta area—in the past three decades, and who are part of the demographic shift that's turning Georgia into one of the most diverse states in the Southeast. In 2021 and 2022, Georgia took in more than 1,200 refugees (not including the hundreds who arrived as humanitarian parolees or were directly sponsored from Afghanistan and Ukraine), with the majority coming from the Democratic Republic of the Congo, Syria, and Myanmar. One of the top 10 states to resettle refugees, Georgia can expect even more this year, as the Biden administration made an ambitious commitment to resettle 125,000 people in 2023. (It set the same goal in 2022 but fell far short, due in part to cuts to the U.S. Refugee Admissions Program during the Trump presidency. Rebuilding that program, a State Department spokesperson told me, is a "priority for this administration.")
Talib finally became a citizen in the spring of 2022. He wasted no time applying for a U.S. passport: It arrived in the mail a month after his citizenship ceremony, and he booked his ticket to Bangladesh. "I've never been a citizen in any country," he told me, his eyes shining. "This is the first time that I hold a passport." He's now part of a growing electorate, joining more than 96,000 new citizens in a state where as few as 11,000 votes can shift elections.
This potential political power is not lost on voter advocacy groups. But what may be overlooked is that a new identity as a citizen can be complex. While Abu Talib has created a life for himself in America, it's been impossible to fully leave behind his home and family on the other side of the world. Nor does he want to. Like many refugees, he has carried that world inside him. It lives, ever present, wherever he goes, among the neighborhoods, strip malls, and highways of suburban Atlanta.
• • •
Talib had passed through Cox's Bazar before—16 years earlier, when he was 12 years old, after convincing his parents that his survival depended on it. But he almost didn't survive the voyage out.
Born in Rakhine State in northwestern Myanmar, Talib and his family are members of the minority, mostly Muslim Rohingya community, which has been persecuted for decades by the country's ruling regimes. The seeds of the strife were planted during British colonial rule, which lasted from 1824 to 1948. The majority Buddhist population was threatened by the colonial presence. The British encouraged migration from neighboring India, which they also ruled, pitting ethnic groups against one another—the oppression of the Rohingya rests on claims that they are essentially illegitimate, though historians have traced their roots in Rakhine back centuries. When Burma became a front line for the Japanese and British during World War II, many of the Burmese Buddhist majority supported the Japanese, while the British enlisted the help of the Rohingya community to fight back. Communal violence broke out, and distrust between the groups solidified.
Ever since Myanmar's independence from the British, successive military governments have failed to recognize the Rohingya among the country's 135 distinct ethnic groups. (In 1989, the government officially changed the country's name from Burma to Myanmar, though both names remain in use.) In 1982, the nationalist Buddhist government passed a law stripping virtually all Rohingya of their citizenship unless they could trace their heritage to the precolonial period—effectively rendering them among the largest stateless populations in the world. The law laid the groundwork for decades of persecution, forced labor, discrimination, and targeted violence, which escalated after 2015, when Aung San Suu Kyi became head of state. (Previously a renowned democracy activist, Suu Kyi drew international condemnation for her response to the Rohingya crisis.) Thousands of Rohingya were killed, and nearly 1 million fled, after a violent military campaign in 2017—the worst to date. The United Nations' highest court is currently set to hear a case that will decide whether Myanmar's government committed genocide against the Rohingya people.
As a child, Talib experienced the persecution firsthand. He remembers when his grandfather, uncle, and cousin were taken by the Burmese military. When his grandfather was released, Talib said, his head had been shaved, he had been beaten, and he had lost weight; he died four months later. Some people, he said, would never come back. Some would just be shot. When he was 11 years old, he was stopped by a police officer on his way to school. The officer forced him to work for the police, doing mostly lawn work and cleaning. One day, a policeman came behind him while he was working and demanded that he work faster. "I said, No, I'm hungry," Talib recalled. "He kicked my back, my knee. I was injured. The blood is coming."
He told his mother he had to leave, but she was reluctant to let him go—he was still a kid, and she worried for his safety. When Talib learned that his older friend Ayub and a few other men from his village were planning to take a boat to Malaysia, he was able to persuade his father to let him travel with them. "My father said, Okay, just go, be careful." To get on the boat would cost 16,000 Bangladeshi taka, the equivalent of about $160—which he didn't have. His parents sold their family cow, using the money to pay for his ticket.
Talib set out, crossing the border into Bangladesh by foot, to a port in Cox's Bazar, next to the refugee camps that Rohingya had been fleeing to periodically since the early 1990s. The plan was for the boat to take the passengers to the Thailand-Malaysia border; from there, they would travel to a city where, hopefully, life would be better. The boat was old—a wooden trawler—and barely seaworthy. Still, nearly 100 people (Rohingya and other migrants from Myanmar and Bangladesh) packed into it.
After seven days at sea, the engine cut out. No matter how many times the passengers tried to restart it, it just wouldn't. "We didn't have any wires or anything, or a mechanic, to fix it," Talib said. They began to drift. "We were just floating in the sea."
About a week after that, they ran out of food. Twenty travelers died from starvation and dehydration. When the smell became unbearable, Talib said, his fellow passengers rolled the bodies into the sea. Talib didn't think he would survive, either. "I never faced this kind of situation without eating and drinking for this many days," Talib recalled. "I was so weak."
The passengers were adrift for almost two weeks in the Indian Ocean before they spotted a sign of life: a buoy attached to fishing nets. They tied their boat to it and were eventually approached by a fisherman, who told them they were in Sri Lankan waters—over 2,000 miles west of their destination, on the other side of the Bay of Bengal. The fishermen contacted the Sri Lankan navy, which deployed a rescue team to bring them to shore.
Describing this ordeal to me, Talib swiped through his phone for a few minutes before finally bringing up a video posted by Voice of America Burmese in 2008. In it, dozens of emaciated men deboard a large naval vessel in the Sri Lankan port city of Trincomalee. "That's me," Talib said, pointing to a skeletal boy walking off the boat.
• • •
Today, Abu Talib lives in a brick house on a quiet street in Clarkston, where he grows chilis in his front yard. Every time I've met him, he's been smartly dressed, in a fitted button-down collared shirt and slacks, often donning a baseball cap with an American flag on it. When he arrived here, in 2012, he didn't know anybody except for four friends who came with him, who had also been on the boat. He had spent the previous four years living as a refugee in Sri Lanka, where the UN had processed his paperwork, eventually leading to his resettlement in Georgia.
He learned English in the refugee camp in Sri Lanka, but other than that had to build the skills required for life here from scratch: "We don't have a car, we don't know how to drive cars, we don't know how to get a license." He struggled with seemingly simple things, like going to the Thrifttown supermarket in Clarkston, which required him to walk two miles from his apartment and two miles back, carrying all the groceries. Just three weeks after arriving, with the help of a resettlement agency, he secured a job at a cellphone manufacturing company, where he'd end up being awarded both "Employee of the Month" and "Employee of the Year'' before moving on to another company. He also started taking IT classes at Georgia Perimeter College. In 2016, a friend reached out and told him that New American Pathways, an immigrant and refugee support organization in metro Atlanta, needed a Rohingya translator. He worked as a case aide there for five years, supporting Rohingya refugees while learning the ins and outs of the citizenship process and civic engagement.
Even before he began work at NAP, though, Talib found ways to help the growing numbers of Rohingya refugees settle into life in Georgia. "Whoever came after us, believe me, we didn't want to give them that feeling," he said, describing the isolation that he and his friends felt when they first arrived. "We took them shopping, we find them jobs. We don't charge anything."
Talib became a pillar in his community: He educates his peers about elections and voting and looks for opportunities to spread the word about the plight of the Rohingya. His home office is a testament to the pride he takes in his life here. Alongside a world map are pictures of his children, a photo of his wedding in 2015 to Umi Kalsom—also a member of the local Rohingya community—and one of himself and several other Rohingya outside the National Center for Civil and Human Rights. On the adjacent wall are a series of framed posters of U.S. military aircraft, and soldiers waving American flags. He even has a Christmas ornament with "Supreme Court" written across it—a souvenir from a trip to Washington, D.C., when he met with lawmakers to advocate for the Rohingya.
Talib and Umi now have five children, and he works at an Amazon warehouse in Stone Mountain to support his growing family. He and Ayub, one of the men who had been on the boat with him, along with four others, founded the Burmese Rohingya Community of Georgia. In 2021, the BRCG raised enough money through community partners to buy a small house in Clarkston, where they now organize Islamic education classes, an afterschool program, and parties to celebrate when a community member becomes a citizen.
Even as his situation improved, though, Talib continued to feel torn between two countries. Just as he predicted as a child, life for the Rohingya back home had gotten worse since he had been in the U.S. And like so many refugees and immigrants, he's never been able to separate what's happening there from his life here.
Since arriving in Georgia, Talib has spoken with his mother on the phone, via WhatsApp, multiple times a week. As soon as he earned an income, he began wiring his parents money. (Refugees in Bangladesh aren't able to open bank accounts there, so Talib has to send the funds via a Bangladeshi acquaintance.) When the costs of supporting his family back home and his family here got to be too much, he didn't consider stopping the Western Union money transfers. Instead, he dropped out of college. "Life here is also hard," he said. "I have a family, kids and a wife, also I have a house here. So, it's difficult, but most of the time I'm helping. There is no single month that I don't send money."
Many of his peers are in a similar situation, says Dr. Mary Helen O'Connor, who's taught refugee students at Georgia State University's Clarkston campus and is deputy director of the GSU Prevention Research Center—part of a CDC initiative to promote public health in Clarkston, which is home to tens of thousands of refugees from around the world. "People stay very connected to their home communities. It's particularly difficult for the ones who have family members that are still being persecuted in the countries they've left," O'Connor said. Often when students come back from seeing their families, they struggle. "They come back here and go, You know, I'm so fortunate that I don't have to do that anymore. But what can I do to help my family? And there's really not a lot except send money."
The only time Talib ever lost touch with his parents was in August 2017, when Myanmar state security forces launched a large-scale assault on villages across Rakhine State after Rohingya militants attacked several police posts. Within weeks, more than 200 villages were burned and over 700,000 Rohingya had fled to refugee camps in Bangladesh. According to Medecins Sans Frontieres/Doctors Without Borders, at least 6,700 Rohingya were killed, though some estimates put that number closer to 24,000.
"I was so worried," Talib said. Finally, almost a month after the military assault, he heard from his parents: They had made it to Cox's Bazar. But his brother, he learned, was killed in a rocket attack on his village. "When the rockets were going on, he tried to run away with his family. Then, the rocket went into his body," Talib said. "He was 32 or 33."
• • •
In October, Talib voted early in the midterm elections—the first time he had cast a ballot in any election, ever. He works the night shift at Amazon and so was able to show up on a Tuesday at noon, along with a friend from the Rohingya community, who was also voting for the first time and also worked a night shift at a meat-processing factory. Talib had been reading what he could online about the candidates and whether or not they had recognized the genocide of the Rohingya. He spread what he learned on WhatsApp community groups and urged everyone to get out and vote.
His phone is full of videos and photos he took in the camps in Cox's Bazar—footage that he hopes to show lawmakers at some point, whenever someone responds to his request for a meeting. "The date is not fixed. We'll try to go White House, maybe some senators, Congress, and our President Joe Biden, to tell our history." The Biden administration has acknowledged at least part of that history: In March, the White House said the Myanmar military had carried out actions that amount to genocide and crimes against humanity. And in an email, a spokesperson said the State Department had "taken steps to increase the resettlement of members of particularly vulnerable populations, including LGBTQI+ persons, refugees throughout the Americas, Congolese, Syrians, Ukrainians, Afghans, Burmese Rohingya and other nationalities."
At the camps in Bangladesh, Talib said, "a lot of people were asking, You live in America—what is our life going to be like in the future? My brother's son was asking, Why you cannot take us? I said, That's not how the system works." He told them, one day, they might be able to return to Myanmar, or continue on to the United States. "But just be patient. I had no words to say."
As Talib packed his suitcase before his flight back to the U.S., his mother broke down. "She said, Why are you leaving me?" At home in Clarkston, Talib could barely talk about the last moments of his trip without crying. It startled me—in the time I had spent with him, he had seemed so in control, almost detached from the gravity of the events he had experienced. "It's a difficult life," he said. "I don't know why the world is watching and not doing nothing. That's not how human beings can live."
He showed the videos of his trip to his seven-year-old daughter. "I explained to her, You see your grandmother living like this, and you live in this house. When can you help your grandmother?" He's not sure if his words landed. "She's a kid," he said. "I don't want to give her a bad feeling.
"This is her country. I was born in Burma. She was born here," he continued. Even if repatriation became a possibility, going back wouldn't feel like the natural thing to do. "She will miss this country. Even though I will go to Burma, I will miss America. America gave me a lot of things—I married here, I bought a house here, I'm working here."
He goes back and forth. Just minutes earlier, he had told me, "Even though we live here, I am a citizen of the United States, I miss my country. I miss Burma."
This article appears in our January 2023 issue.
Advertisement

link